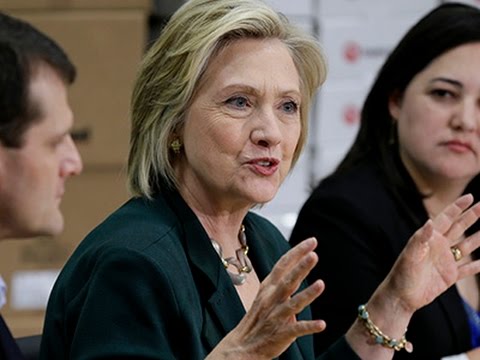 View 10 Items
Associated Press


It's on.
With Hillary Rodham Clinton's formal entry into the 2016 presidential race last Sunday, the arguments against her candidacy — made by her Republican rivals — have already begun to take shape. In part, that's because there was little question that Clinton would assume the mantle of Democratic front-runner, giving strategists years to plot their battle plans.
In the near constant barrage of criticism tossed at Clinton over the past few days, a pattern has emerged that makes clear what we can expect over the coming weeks and months of the campaign. Here are five anti-Hillary refrains.
1. She's the same as Obama
Texas Sen. Ted Cruz often refers to what he calls the failed Obama-Clinton foreign policy.
"Does America want a third Obama term or are we ready for strong conservative leadership to make America great again?" Cruz said in a Sunday statement following Clinton's announcement, adding, "We know that a Hillary Clinton administration would be no different than an Obama administration."
Florida Sen. Marco Rubio agrees, arguing in his new book, "American Dreams," that, "The election of Hillary Clinton to the presidency, in short, would be nothing more than a third Obama term."
2. Like her husband, she thinks she's above the law
Kentucky Sen. Rand Paul was one of the first candidates of the 2016 election cycle to air an anti-Clinton ad. In it, he covers many of the arguments in this list, but emphasizes what he considers to be a pattern of behavior that shows Hillary believes she is above the law. "Hillary Clinton represents the worst of the Washington machine," the narrator says in the minute-long spot. "The arrogance of power, corruption and cover-up, conflicts of interest and failed leadership with tragic consequences."
Specifically, Clinton's deletion of a trove of emails from her personal server has led candidates such as Cruz to suggest that the former secretary of state broke the law.
"It is long past time for a fair and impartial investigation into what occurred here. Based on what she has admitted publicly, it appears that Secretary Clinton's conduct was in violation of federal law and may have even constituted criminal conduct," Cruz said in a radio interview on the Dana Show.
There are several issues on which Clinton has been labeled a "hypocrite" from her Republican presidential rivals, but the two most common have to do with the Clinton Foundation's acceptance of donations from governments with less than stellar records on human rights, and over the issue of gender pay equality.
On "Meet the Press," Paul said: "… Hillary Clinton has taken money from countries (in which) rape victims are publicly lashed," Paul said. "We should be boycotting, voluntarily boycotting a country, not buying stuff from a country that does that to women."
During her C-PAC address, former Hewlett-Packard CEO Carly Fiorina hit Clinton for the foundation's donations as well as for the alleged gender pay gap for members of Clinton's own staff. "She tweets about equal pay for women but will not answer basic questions about her own office's pay standards ...," Fiorina stated.
4. As secretary of state, she left us less safe
Fiorina has often repeated her assertion that Clinton's time as secretary of state was devoid of accomplishments, and, in fact, left us less safe than we were before she held that position.
"It's a problem when you mislead the American people for a month about what really happened in Benghazi. It's a problem when you believe that Vladimir Putin can be thwarted by a red reset button," Fiorina said this week during an appearance on MSNBC's "Morning Joe." "I've met Vladimir Putin. I sat across the table from him; there's no way a red reset button is going to work. It's a problem when our relationship with Israel has deteriorated so dramatically, and it's a problem when terrorism is on the rise, not on the wane as she and the president continue to try to convince the American people."
In his first anti-Clinton ad of 2016, former Pennsylvania Sen. Rick Santorum piled on to the theory that Clinton, because of her use of a private email account, left the United States vulnerable to terrorist attacks.
Former Florida Gov. Jeb Bush, too, has questioned whether Clinton's time as secretary of state helped make America safer.
"This is very Clintonian, I think, to figure out a way to get out of a mess," Bush said in an interview with Hugh Hewitt. "But she was secretary of state of the first administration. And while some of this disruption and then all the stuff playing out right now didn't exist in the first four years, its roots were there. The pullback began then. The reset with Russia, the discussions with Syria, the red line, all these things created the beginnings of what we're now seeing."
5. She represents the past/is too old
Rubio, the youngest candidate to have entered the race thus far, has made a point of trying to highlight the generational divide between himself and Clinton. "Just yesterday, a leader from yesterday began a campaign for president by promising to take us back to yesterday," Rubio said during Monday's campaign roll-out. "But yesterday is over, and we are never going back."
That line of thinking picks up on an argument put forth by GOP strategist Karl Rove, who, during a 2014 interview with Fox News, described Clinton as "something old and stale."
"In American politics, there's a sense you want to be new, you don't want to be too familiar, you want to be something fresh, you don't want to be something old and stale," the former Bush adviser said.
Paul, meanwhile, has also launched repeated attacks based on the idea that Clinton equals an outdated vision for the country.
Clinton is the subject of debate, of course, but even from the likes of Jonathan Rauch, who coined the so-called 14-year rule during the 2004 election. It posits that a politician has a 14-year window to rise to the presidency before a metaphorical sell-by date is reached. This year, however, Rauch is unsure.
The many lines of attack on Clinton themselves belie a truth that even many of the Republican candidates themselves admit: Hillary will be hard to beat.
"Hillary Clinton is a determined, hard-working woman. She is. And she has set her sights on the White House. And so she's not going to give up, and she's not going to give in. She's going to keep going," Fiorina said this week in an interview with Hewitt. "And she has, we shouldn't underestimate her, because she has support, whether enthusiastic or not, she has support from her party. … And she will also have more money than anyone, because she doesn't have to spend very much in a primary. So we shouldn't underestimate her. She is a determined fighter, and she will fight for this."
Former Arkansas Gov. Mike Huckabee agrees.
"You know the Clintons very well," Huckabee told George Stephanopolous last week, "they play to win, and anyone who thinks that she's going to get into this half-heartedly, well they've never ever encountered the will, the spirit, the heart and the determination of the Clinton political machinery."
©2015 Bloomberg News