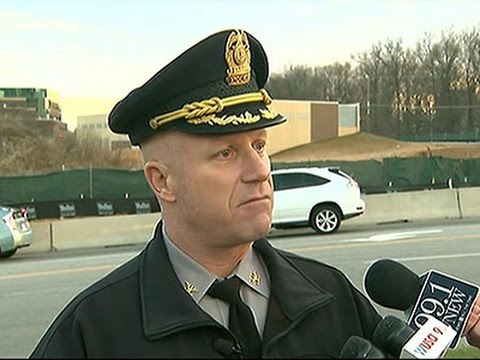 View 16 Items
Associated Press


WASHINGTON — A prisoner being treated at a northern Virginia hospital wrestled with a guard Tuesday and took her gun before escaping in a hospital gown and fleeing in a carjacked vehicle, police said. The prisoner was captured hours later in nearby Washington.
Fairfax County police credit a tipster's call for finding Wossen Assaye, 42, accused of felony bank robbery.
After he fled Inova Fairfax Hospital in Falls Church, Assaye broke into the trunk of a car a few miles away and waited, police said. Once the owner began driving to work a few hours after the escape, Assaye kicked out the trunk and carjacked the car, Fairfax County Police Chief Col. Edwin C. Roessler Jr. said.
He later abandoned that car, leaving the guard's gun behind and carjacked a second, police said.
Assaye was in the custody of two Allied Protective Services guards when one took a restroom break and Assaye overpowered the other, U.S. Marshal Bobby Matheson said. Assaye used the female contract guard as a shield as he fled down the hall and then released her and fled down a stairwell, Matheson said.
Assaye was shackled and on a hospital gurney, but marshals are investigating whether the shackles were loosened or removed at any point or if the temporary absence violated any policy, he said.
"We have no indication this was preplanned," he said.
Early in the morning, police locked down the hospital and emergency vehicles swarmed the surrounding streets. Later, local television showed police in SWAT gear and helmets with guns drawn searching neighborhoods in northern Virginia as helicopters hovered overhead.
Police tweeted descriptions of the cars and photos of Assaye and of a woman, saying that he might be with his girlfriend, but Roessler later said that was not the case.
Assaye was arrested March 20 and charged with a robbery at Apple Federal Credit Union in Alexandria. But in a court document, an FBI agent suggests that Assaye, of Arlington, is responsible for a string of 12 bank robberies in northern Virginia over the last year and a half.
Brooke Rupert, a public defender who was representing Assaye in the robbery case, declined to comment Tuesday morning.
Assaye had been booked into the William G. Truesdale Adult Detention Center in Alexandria on the federal charges March 21, Alexandria Sheriff's Office spokeswoman Amy Bertsch said in a statement. On Friday, he attempted suicide and was taken to the hospital just outside the Capital Beltway for treatment, she said. Alexandria deputy sheriffs turned Assaye over to security officers contracted by the U.S. Marshals after the first 24 hours, she said.
In court documents about the robberies, the FBI agent said the robber seen in surveillance photographs and video recordings is "physically similar" in the dozen robberies that end with the robbery of the Apple Federal Credit Union.
In all, the banks were robbed of about $32,000. In most cases, the agent said the robber entered the bank with a cellphone to his ear, demanded money and fled with cash on a bicycle.
Associated Press writer Jessica Gresko in Washington contributed to this report.