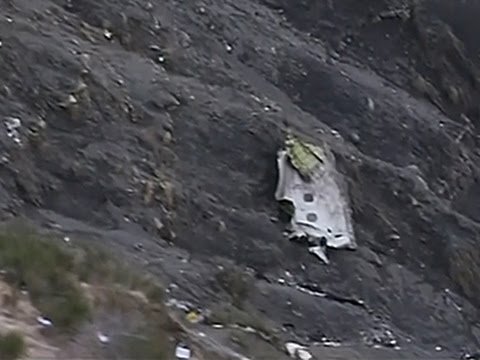 View 7 Items
Associated Press

HALTERN, Germany — Lara Beer waited at the train station, looking forward to seeing her best friend returning from a 10th-grade exchange trip to Spain.
The 14-year-old said the train came in Tuesday afternoon, but her friend Paula wasn't on it.
"I just went back home," Beer told The Associated Press on Wednesday, wiping tears from beneath her red-framed glasses. "Then my parents told me Paula was dead."
Beer's friend was one of 16 students and two teachers from the main high school in the western German town of Haltern who were killed when Germanwings Flight 9525 from Barcelona to Duesseldorf crashed Tuesday in France. A total of 67 Germans, many Spaniards, and people from Australia, Japan, Israel, Turkey, Denmark and the Netherlands are believed to be among the 150 on board who died.
The crash has sent shockwaves through Haltern, a rural town 80 kilometers (50 miles) northeast of Duesseldorf where it seems everyone knew someone who died.
"We are a town of 38,000," Mayor Bodo Klimpel said on ARD television, adding that his son attends the same school as the students who died. "It's only natural that you know some people personally."
Joseph Koenig High School principal Ulrich Wessel said the loss of 16 of his students and two teachers, one who had just married and one who was just about to be, was a "tragedy that renders one speechless."
"I was asked yesterday how many students there are at the high school in Haltern, and I said 1,283 without thinking, then had to say afterward, unfortunately 16 fewer since yesterday," he said. "That's just terrible."
Classes were canceled Wednesday but students were encouraged to come to the high school anyway, to be with classmates and talk with psychologists and other counselors. Police erected barriers to keep cameras away from the children as they hugged and wept at a makeshift memorial of candles and flowers at the entrance to the building.
"We're here to help on a difficult day so that the people here in Haltern have the chance to mourn," police spokeswoman Inge Such said.
Still, when Stefanie Gabler tried to take her daughter Milena to the memorial so she could add two candles and a hand-drawn painting by the five-year-old, she said they were mobbed by TV cameras.
"They were coming from all sides. I even tried to sneak in through the back entrance but police wouldn't let me," she said.
The mother of four said she and her family had talked about the accident, and wanted to pay tribute to the students who had died. She planned to return later to add the items to the memorial.
At the scene, a hand-painted sign on an outdoor pingpong table read: "Yesterday we were many; today we are alone," with 16 white crosses painted underneath.
Beer was among a group from a neighboring school who came to be with the Joseph Koenig students to offer their support.
"We're all talking with each other; the atmosphere is indescribable," she said. "You just can't believe that your own friend is gone."
In Llinars del Valles, the small Spanish town northeast of Barcelona where the German students had just finished their weeklong exchange program, a steady stream of students filed in to a memorial service at the Institut Giola school.
"This has been a big blow," said 18-year-old Geronimo Gonzalez. "It's tough to talk to the other kids, because there's no going back."
A minute of silence was also being held at the town hall.
Barcelona's Liceu opera house was holding two minutes of silence at noon in homage to two German opera singers — Oleg Bryjak and Maria Radner — who took the flight after performing at the theater last weekend.
David Rising, Geir Moulson and Frank Jordans in Berlin, Ciaran Giles in Madrid, and Joseph Wilson in Llinars del Valles contributed to this story.