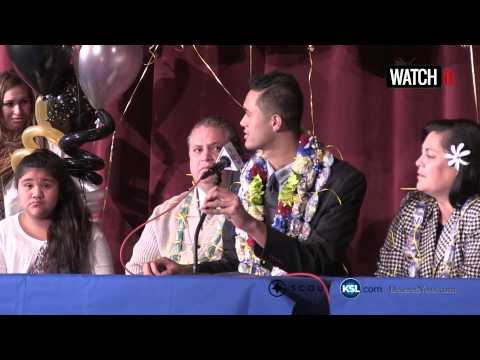 View 2 Items

They say it takes a village to raise a child. And I've had one of the best.

—Mufi Hunt
TAYLORSVILLE — Taylorsville High standout Mufi Hunt signed a letter of intent to play football for Michigan State.
"All glory goes to God," he said during a presentation late Wednesday morning at Taylorsville High School. "And after much fasting and praying, and a lot of arguments in my house, I'm going to be joining my brothers of Sparta."
He put the Michigan State hat on as the crowd erupted in cheers and applause. Hunt said he will "serve for the Lord's team" on a two-year mission for The Church of Jesus Christ of Latter-day Saints before playing college football at Michigan State.
"They say it takes a village to raise a child," he said. "And I've had one of the best. I'm so grateful for every single one of them. I'd also like to thank every coach I've ever had. I've learned life lessons from each one of them. And they've all played a big role in my football journey and who I am as a person."
Hunt, who was joined on stage by Eastern Arizona signee To'a Maumau, also considered Oregon State, BYU, Utah State and Washington State.
Hunt thanked his Taylorsville coaches and teammates and said his experience was the "funnest" because it "wasn't all about football." He also thanked, by name, the coaches "who took the time to recruit me. I know I'm just one of the thousands of kids who play football."