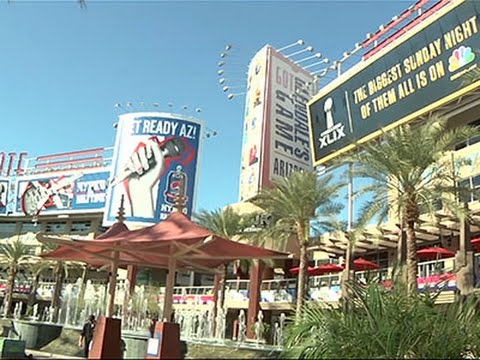 View 9 Items
Associated Press

GLENDALE, Ariz. — No offense, but the mayor of this town hopes you are miserable, wherever you are. He is sitting behind his desk, the sunshine sneaking through his window, and he hopes you are reading this from your home and you peek outside to see the wind blowing and snow falling and, if it's not too much to ask, maybe your car won't start in that kind of cold.
As far as Jerry Weiers is concerned, the only two bad things about that storm in the Northeast is that it wasn't nasty enough and didn't cover enough ground. Again, no offense, but if it was up to him, the colder temperatures back in the midwest would've started long before Thursday.
Because the more miserable you are, the more the images broadcast from his town of 225,000 during the Super Bowl on Sunday might convince you to vacation or even move here. And the more that happens, the more likely he is to get back some of the public payout his town is putting up to host the game.
"It's certainly in our favor," Weiers said. "(If) the news says you can't even go out and drive the streets, and they turn on the TV and it's sunny in Glendale, Arizona, guys are in shorts playing golf and picking oranges off the trees and, you know, that wears on people."
In many real ways, the financial future of Glendale depends on how many people see the sunshine and the golf courses and the orange trees — a woman on the street handed me a bag of freshly picked oranges, and they really are delicious — and make this town part of their plans.
Before Weiers became mayor, this cute, mostly sleepy suburb agreed to use millions of taxpayer dollars that have very little chance of paying off as an investment — no matter what the NFL says.
The Super Bowl will be played here, in this town, in that giant flying saucer off the 101. But nearly all of the fun around and leading up to the game is taking place nine miles southeast of here in downtown Phoenix. Glendale is something like the Valley's designated driver this week — tangentially around for the party, but unable to fully participate and on the hook for gas money and clean-up.
"At the end of the day," Weiers said, "we'll be behind. There's no doubt in anybody's mind about that."
Weiers has said Glendale may lose $3 million by holding the Super Bowl, and this is one of the stories the NFL would rather you not hear about this week. The Super Bowl is supposed to be a bonanza of both dollars and exposure for everyone involved, and it is in many ways, but that windfall is buried by the reality of how these things are put on and how the money is counted.
Hosting a Super Bowl means agreeing and meeting a long list of requirements that usually starts with millions of dollars to update the stadium — which the NFL benefits from later, too — and includes hotel rooms (that have to subscribe to NFL Network for at least a year), golf courses, priority on snow and ice removal, free advertising, and full exemptions from all local, city, and state taxes on tickets sold to the game and other events.
Phoenix, actually, has gone a step further and swept its downtown of the homeless, lest their unsightliness get in the way of commercialism.
It is a forced makeover, in other words, almost entirely done on the cities' dime and Weiers is among the rare politicians to point out that holding a major event like the Super Bowl might not be worth the trouble and expense.
To help offset the losses, Weiers is trying to push a bill that would let Glendale (and other cities hosting what he calls "mega events") be reimbursed by the state. His first attempt died in the Senate.
Despite ongoing struggles against the economy here, the profile of the Valley has grown in recent decades in large part with sports. The NFL's Cardinals moved here from St. Louis in 1988, and the population of Phoenix has more than doubled since. The NHL's Coyotes came here in 1996, and baseball's Diamondbacks were created in 1998. The NBA's Suns have been here since 1968.
That makes Phoenix one of just 13 metropolitan areas with a team in all four major sports leagues, and none of the others have Phoenix's rotation of major standalone events or the growing presence of baseball spring training complexes. All of that helps make the Valley a more interesting place to live, and boosts tourism.
But Weiers' stance is a sign of a growing acknowledgment that when the analysis is strictly about money put in and money taken out, pro sports are usually a rotten investment for taxpayers.
The issue is especially important in Glendale, not just because it's a suburb with an NFL stadium, but because the city agreed to pay $225 million over 15 years to keep the Coyotes. The deal is less than two months old but already has meant a loss into seven figures for taxpayers — and an enormous profit for the team's owners.
The link between sports and economic benefit has always been debated. The NFL is pushing a claim of $500 million, but independent studies indicate the reality is more likely to be a fraction of the league's claims, and that the lion's share of that much lower total does not stay local.
Look, none of this is meant to imply that cities shouldn't want to host a Super Bowl or Final Four or any other major event. There is value in the exposure, a civic self-esteem boost, and for a lot of people it's fun, which is a decent enough reason to spend money.
But too often, these things are presented as sound financial investments and backed by bogus studies claiming unrealistic paybacks.
Weiers' willingness to point this out, and Glendale's experience this week, is a small step toward getting a more even balance between taxpayer funding and tangible civic reward.
It's a relatively small part of the Super Bowl experience, and one that won't make the talk shows or Sunday's broadcast.
But it is something the people here will be dealing with long after they sweep up the confetti.
©2015 The Kansas City Star (Kansas City, Mo.)