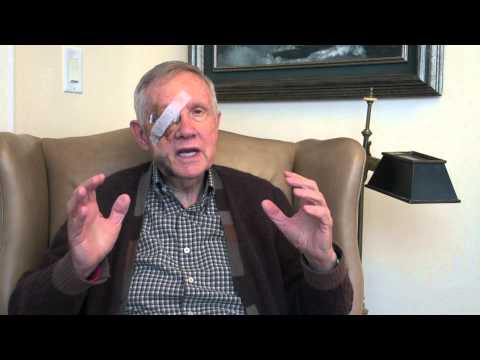 View 2 Items
Nevada Senator Harry Reid

WASHINGTON — With a bandage across one eye and a black bruise near his jaw, the Senate's top Democrat offered a personal account of his injury last week that forced him to miss the opening day of the new Congress.
"I didn't go bull riding. I wasn't riding a motorcycle. I was exercising in my new home," Sen. Harry Reid said in a video released Tuesday by his office. The former boxer said after all his fights he never looked as beaten up as he does now.
Reid suffered three broken ribs and facial bones when an exercise band broke at his home in Nevada. He also suffered a concussion, an injury that his office had not previously disclosed. On doctor's orders, he was not present when Republicans assumed the majority in the Senate and GOP Sen. Mitch McConnell became the new majority leader.
Reid, 75, will be the minority leader in the new Senate.
Reid tweeted a photo of him meeting with fellow Democratic leaders on Tuesday at his apartment in Washington. He sported a bandage over his blackened right eye.
"Working from home on doctor's orders," Reid tweeted. "Just wrapped up a good meeting with my leadership team."
Illinois Democrat Dick Durbin will assume duties as the Democratic floor manager until Reid returns.
"He's pretty banged up," Durbin said. "Imagine going through the windshield of a car what your face might look like. The right side of his face is pretty badly beaten with a lot of broken bones and bruising and discoloration and then add three or four broken ribs to it."
Durbin said Reid "was stretching these straps and one broke and tossed him like a slingshot against built-in cabinets. He crashed into them with his face and side of his body. Lots of blood."
Durbin said Reid, who had been hospitalized overnight, underwent additional treatment in Washington. He said Reid's doctor ordered him to rest and limit his activities.
McConnell, R-Ky., wished Reid a speedy recovery.
"He's tough. I know he'll be back in fighting form soon enough," McConnell said.
Reid's office says he has spoken with President Barack Obama several times since his accident and kept a busy schedule despite his injuries. It's unclear when Reid, who faces a potentially tough re-election campaign in 2016, will return to the Capitol.