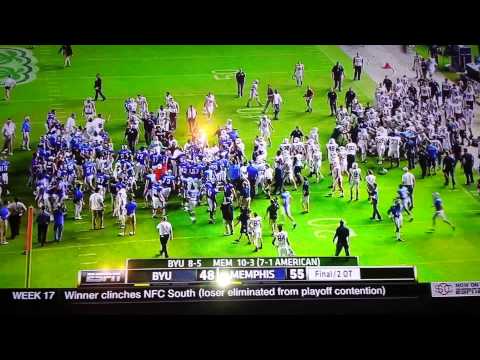 View 5 Items


Immediately following the 55-48 Memphis victory over BYU in the Miami Beach Bowl a brawl broke out on the field of Marlins Park.
The fight which appeared to begin with a few pushes, soon escalated into players wrestling each other to the ground and punches being thrown.
In an ugly scene, BYU defensive back Kai Nacua was caught on camera landing a punch to the back of a head of a Memphis player, while Tiger's Chase Johnson was seen swinging his helmet at Cougar players, before coaches got the players under control.
BYU athletic director Tom Holmoe apologized to Cougar fans via Twitter following the brawl.
We expect better of our athletes, even in the face of a difficult loss. We intend to fully review this matter. I apologize to Cougar Nation.

— Tom Holmoe (@TomHolmoe) December 23, 2014
Memphis guy who swung his helmet. https://t.co/DwlHadnZ59

— Stewart Mandel (@slmandel) December 22, 2014
Dude is tauntin Stewart. Keroma steps in then the guy starts throwin. Fight started right here https://t.co/7u73SbcSpW

— Jake Kuresa (@jake_kuresa) December 22, 2014
Brawl at #MiamiBeachBowl https://t.co/mYScXDTQTM

— CFB Nation (@UofCFB) December 22, 2014