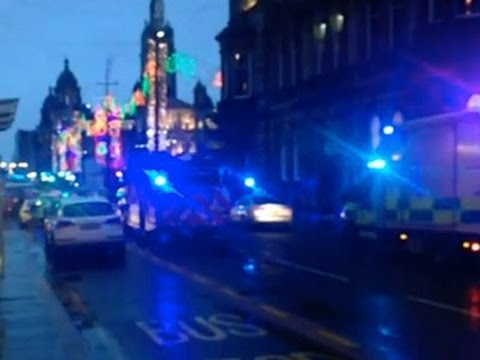 View 11 Items
Associated Press

GLASGOW, Scotland — A number of people were killed and injured Monday when a garbage truck crashed into a group of pedestrians in downtown Glasgow, police said.
The truck hit a number of pedestrians as it veered out of control along a crowded road in the city center, Superintendent Stewart Carle of Police Scotland said.
He said the incident was "a road traffic accident, nothing more sinister."
"For now it does not look to be a criminal or deliberate act that has taken place here this afternoon, but we need to have time to investigate it," he said, adding that the truck driver is being treated in a nearby hospital.
Carle said he couldn't confirm how many fatalities there had been because it "was over a number of sites." However, he said at least seven people had been seriously injured and warned that number may rise.
Onlookers suggested the driver became ill and lost control of the vehicle, but officials did not confirm this. The crash happened near George Square in the central part of the city mid-afternoon, when the streets were thronged with Christmas shoppers.
Holiday shopper Alison Keith, who was yards away when the accident happened, said chaos ensued.
"I heard screaming and saw people running toward George Square," said Keith, 31. "By the time I got round the corner there were people trying to help the injured. It was horrific. There were people crying and shouting."
She said it appeared the driver "had lost control and shot across the road" into the entrance of the Queen Street train station, hitting pedestrians along the way.
Police and rescue services arrived very quickly, Keith said.
Roads surrounding the site were closed and at least six ambulances and dozens of police and fire vehicles responded.
Katz reported from London.