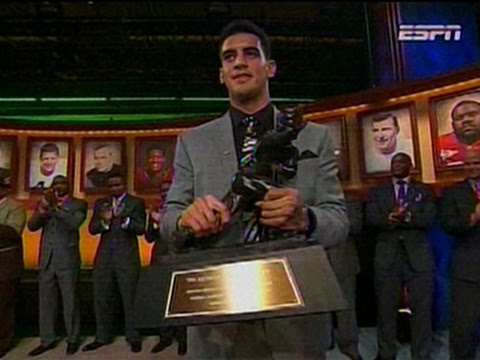 View 2 Items
Associated Press

I am humbled to be standing here today. This award goes to my teammates.

—Marcus Mariota
Marcus Mariota lights up a field more than he does a room.
The soft-spoken Oregon quarterback is humble, respectful and next to unquotable after games.
Maybe, though, given the winners of the last few years, boring is just what the Heisman Trophy ceremony needed.
It was a foregone conclusion Mariota would win the 80th Heisman on Saturday night in New York.
The fourth-year junior claimed an overwhelming victory over Wisconsin running back Melvin Gordon and Alabama wide receiver Amari Cooper.
"I am humbled to be standing here today," an emotional Mariota said in his acceptance speech. "This award goes to my teammates."
Mariota finished with 2,534 points, more than twice as many as runner-up Gordon, who had 1,250. Cooper finished with third with 1,023 points.
Mariota received 90.6 percent of the total possible votes, the second highest in the modern era behind 2006 winner Troy Smith, who had 91.6 percent.
Mariota became the first Oregon player to win the Heisman and only the second player from the Pacific Northwest, joining 1962 winner Terry Baker of Oregon State.
Mariota is the first non-USC, West Coast winner since Stanford's Jim Plunkett in 1970.
Cooper and Gordon have had outstanding seasons. Cooper had 115 regular-season catches for 14 touchdowns in helping Alabama to the SEC title and the four-team College Football Playoff.
Gordon rushed for 2,336 yards and 26 touchdowns, highlighted by a 408-yard performance against Nebraska.
Mariota, though, had a statistical season for the ages.
Introverted by nature, he let his numbers do the talking. Mariota completed 68.3 percent of his passes and accounted for 53 total touchdowns — 38 passing, 14 rushing and one receiving.
His passing efficiency rating of 186.3 led the nation.
Mariota led Oregon to the Pac-12 title and a trip to the first four-team playoff. His Ducks will play Florida State in a national semifinal game in the Jan.1 Rose Bowl.
He will be matched against last year's Heisman winner, Florida State quarterback Jameis Winston.
Mariota's victory offered a stark contrast to the last two winners, Texas A&M quarterback Johnny Manziel and Winston.
Those players had strong personalities and careers often engulfed in off-field controversy.
Manziel, the first freshman to win the Heisman, went by the moniker "Johnny Football" and was constantly making news for his off-field exploits. Manziel loved the party life and was suspended briefly while the school and NCAA investigated whether he sold his autographs for money.
Winston won last year's Heisman only weeks after Florida State's attorney declined to bring charges in an alleged sexual assault of a Florida State student. Last spring, Winston was suspended from the baseball team after he was caught shoplifting crab legs from a local supermarket.
Mariota is the antithesis of those profiles. The closest he has come to scandal is recently being cited for speeding.
He spent countless hours mentoring kids at the Emerald Valley Boys and Girls Club.
Mariota was raised in Hawaii, in a culture where self-absorption is frowned upon.
"It doesn't really fit in," Mariota told ESPN's Chris Fowler after his win.
His passiveness has led some to believe Mariota lacks the leadership tools needed to play quarterback at a high level.
Mariota, however, has proven there are many ways to lead. In three seasons, he has passed for 10,125 yards, rushed for 1,136 yards and accounted for 131 touchdowns.
"He's improved in a ton of areas while remaining 100 percent true to who he is, which is a humble, tough, competitive worker," Oregon Coach Mark Helfrich said on a teleconference this week.
Mariota also had an excellent 2013 season, totaling 40 touchdowns for the 12-1 Ducks, but didn't even finish in the top 10 of Heisman balloting.
This year, he swept all the major honors, adding the Heisman to the Maxwell, Walter Camp and Davey O'Brien awards.
Thirteen years ago, Oregon mounted an audacious Heisman campaign for quarterback Joey Harrington. The school plastered a giant-sized photo of Harrington's image on a billboard in New York.
Harrington had a fine year, and finished fourth in the final balloting.
Quarterback Norm Van Brocklin, a future NFL Hall of Famer, was the first Heisman hopeful for Oregon, and he finished sixth in 1948. Running back LaMichael James was third in 2010.
Quarterback Dennis Dixon might have won in 2007 if not for a season-ending knee injury.
Oregon, finally, has its first Heisman winner.
Mariota didn't need advance publicity or a billboard campaign. He made it to New York, eventually. He just needed to play hard, stay humble and wait for his moment.