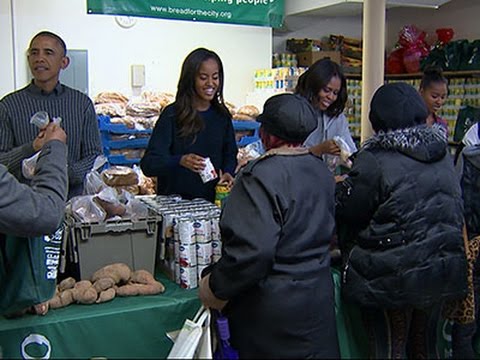 View 17 Items
Associated Press



NEW YORK — Turkey, stuffing and a helium-filled Thomas the Tank Engine are on the menu as friends and families gather across the United States to celebrate Thanksgiving.
Here's a look at how Americans are celebrating:
AND THE PARADE IS OFF
Oohing and ahhing spectators of all ages lined the route of the nationally televised Macy's Thanksgiving Day Parade, which counted Thomas the Tank Engine, Paddington bear and the Red Mighty Morphin Power Ranger among its six new giant balloons.
It was around 37 degrees with a hint of drizzle and light winds as clowns shot a burst of confetti from canisters to get the show rolling.
Earlier, clown Steve Smith passed dozens of workers trapped under netting holding the big floats down.
"How long's your sentence behind bars?" he joked.
Smith, a clown for 12 years, loves to make children happy. "The kids, they are the ones who make the parade," he said.
HOW THE FIRST FAMILY IS CELEBRATING
President Barack Obama is spending a quiet Thanksgiving at the White House where the belly-stuffing menu featured all the holiday's basics.
There's thyme-roasted turkey and honey-baked ham, cornbread stuffing and oyster stuffing, braised winter greens and macaroni and cheese. Don't forget the green bean casserole, sweet potato gratin, mashed potatoes and dinner rolls.
If there's room for dessert, the Obamas can pick from among six pies: banana cream, coconut cream, pumpkin, apple, pecan and cherry.
Obama says Thanksgiving is his favorite holiday "because, more than any other, it is uniquely American."
FERGUSON PROTESTS NEAR PARADE
About six protesters chanting "Justice for Mike Brown!" were handcuffed Thursday after they tried to march toward the parade route, the New York Post reported. The New York Police Department told The Associated Press there were some arrests near the parade but didn't immediately provide details.
"We will not tolerate, under any circumstances, any effort to disrupt this parade," police Commissioner William Bratton said earlier Thursday. "This is a national event, a historic event. Anybody who would seek to interrupt it would be callous, indeed, on this very special day."
Protests in New York have remained peaceful since a grand jury's decision not to indict the police officer who killed the unarmed Brown in Ferguson, Missouri.
SOAKING IN THE SCENE
"This is great. It's nice to feel so festive for the holidays," said spectator Daryl Winchester, 17, of Queens, as she took pictures, waved and shouted encouragement to parade participants.
Like bedazzled rock fans who land coveted stage-front spots, she and her cousins were lucky enough to score the front row of a 20-person-deep crowd.
"Family makes things better," said her cousin Maria Winchester, also a 17-year-old from Queens.
RECORD-SETTING HOPES
The honor of leading the parade went to the Pride of the Mountains Marching Band from Western Carolina University. Asked where that's located, drummer Will Walker said with a chuckle: "It's a dot on the map you will never hear from the rest of your life."
The musicians from Cullowhee, North Carolina, hoped to set two records Thursday: one for most cymbal players (55) and one for largest band (505 members).
"It still hasn't hit me that I'm in the Macy's parade," said cymbal player Alyric Rich.
TRAVEL TROUBLES
Power outages from the first major snowstorm of the season could force some residents of the Northeast to celebrate Thanksgiving much like the pilgrims and Native Americans did almost 400 years ago — in the dark.
The outages on Thursday were particularly bad in northern New England, where more than 200,000 customers were without power in New Hampshire and more than 100,000 were without electricity in Maine.
Ian Rhodes, of Concord, New Hampshire, had planned to host his first Thanksgiving with his wife and two young children for a dozen people, but the power outage changed that. Now they're heading to their parents' house in Jaffrey, about 50 miles south.
"We were thinking (hosting) is going to be a lot of work and then this happened," Rhodes said as he shoveled his driveway Thursday morning.
The rain and snow that fell Wednesday made getting around on one of the busiest travel days of the year a chaotic experience for some. The sloppy mixture grounded hundreds of flights in the Northeast.
HOLIDAY SHOPPING
To the delight of some and consternation of others, it's increasingly become commonplace to see stores open on Thanksgiving, as retailers try to entice shoppers inside and kick off the holiday shopping season a day earlier than the traditional Black Friday. Some of the stores open for at least part of the day on the holiday include Kmart, Target, Sears, Macy's and Wal-Mart. Other stores, like Neiman-Marcus, Nordstrom and Costco, are closed.
Associated Press writer Holly Ramer contributed to this report from Concord, New Hampshire.