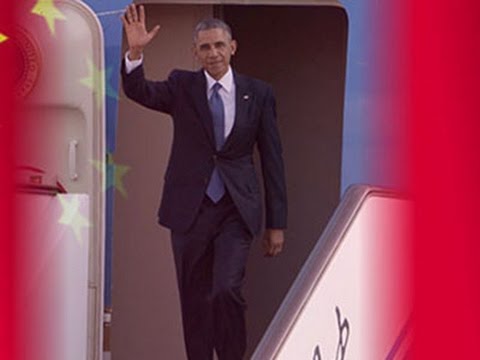 Associated Press
HONG KONG — As President Barack Obama and other heads of government arrived in Beijing on Monday for the 21-economy Asia-Pacific Economic Cooperation summit meeting, China unveiled a series of economic measures aimed at tying the region more firmly to itself — and potentially weakening Asia's ties to the United States.
China and South Korea concluded a wide-ranging trade agreement on Monday, deepening a trade relationship that has already become South Korea's largest, surpassing its commerce with the United States. Top officials from Australia announced that they were on the verge of their own trade agreement with Beijing and could finish a deal in the next few days.
China's central bank unexpectedly pushed up the value of the country's currency, the renminbi, on Monday in the sharpest single-day move in more than four years, making goods from other Asian nations, as well as from the United States, more competitive in the Chinese market. And Chinese securities regulators announced Monday that they would begin allowing investors in Shanghai and Hong Kong to trade shares on each other's stock markets on Nov. 17, a step that could strengthen both cities' roles as financial centers in Asia.
The initiatives Monday amounted to a comprehensive vision for binding economies in the region more firmly to China, already the biggest trading partner for many Asian nations.
"It's a real attempt to exert leadership and to project a responsible image in wanting to lead the whole of Asia — they're all very much linked politically," said Patrick Low, who was the chief economist of the World Trade Organization and is now the vice president for research at the Fung Global Institute, a nonprofit research group in Hong Kong.
China also tried to rally support over the weekend for its vision of a trade agreement that would encompass all of Asia and the Pacific. U.S. officials have been pushing the Trans-Pacific Partnership, which would include only 12 countries — China not among them.
Beijing's ever bolder trade and currency initiatives coincide with an increasingly harsh atmosphere within China for many foreign investors. Dozens of multinational companies have been raided this year and accused of misconduct, including monopolistic behavior, price collusion and bribery.
The timing of the sharp rise in the Chinese currency, just as Obama arrived in Beijing for the APEC meeting, represented an olive branch of sorts not just to the United States but also to other Asian heads of government arriving for the meeting.