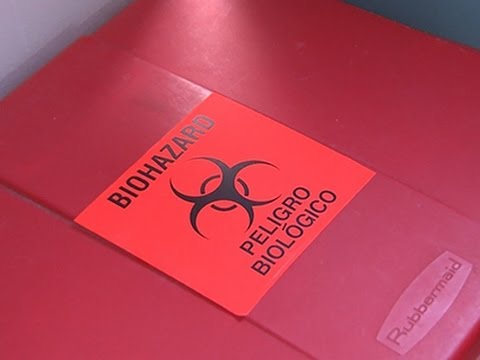 View 2 Items
Associated Press

Even before official confirmation that a New York City doctor had contracted the Ebola virus, a team from the Centers for Disease Control and Prevention was on its way to Manhattan on Oct. 23.
The quick reaction is part of a painful period of self- examination and adjustment at the CDC after a variety of alleged and acknowledged missteps in the case of Thomas Eric Duncan, the first person diagnosed with Ebola in the U.S.
In that case, the CDC said a team was on its way at the same time it confirmed Duncan had Ebola, two days after he was admitted to a Dallas hospital. CDC Director Tom Frieden has said he wished his agency had responded faster and stronger in the Duncan case.
"It's a time of soul-searching for everybody," said John O'Connor, co-leader of the CDC's Joint Information Center in Atlanta. "Soul-searching for us, and soul-searching for hospitals. It's made it a more difficult time, but the questions are fair."
CDC's 11-year-old Emergency Operations Center in Atlanta is on full alert, resembling a NASA mission control room with rows of computer monitors facing a 30-foot-wide screen displaying worldwide data on Ebola. Top officials meet by the hour in a conference room with clear glass doors that can be automatically frosted for privacy.
Even outside the emergency hub, rooms are crowded with workers taking calls from the public and medical facilities. The agency has designed a computer tool specifically for studying outbreaks of Ebola and related diseases that integrates characteristics of patients, tissue samples and transmission patterns, said Stuart Nichol, CDC chief of molecular biology, in the agency's Special Pathogens Branch.
In a small office at the edge of the bustle, Nichol bemoaned the unanticipated cases of the nurses and the lack of data available to the CDC to explain it.
"I was disappointed," he said. "I thought we would see no spread."
In dealing with Ebola in the U.S., the CDC has faced disbelief that one of the nurses was allowed on an airplane after exposure to Duncan, criticism that its safety protocols for caregivers were lacking and calls in Congress for Frieden's resignation.
Frieden promised to stop the disease "in its tracks" when Duncan was diagnosed. Now health officials at the CDC and across the U.S. are asking themselves what, if anything, went wrong since then and how to fix it.
Frieden told Congress that Amber Vinson, one of two infected nurses, shouldn't have been allowed to fly to Ohio from Dallas after caring for Duncan. Since then, the agency has issued new "monitoring and movement" guidelines intended to keep people with possible Ebola symptoms out of airplanes, trains and other public vehicles.
Craig Spencer, the newest U.S Ebola patient, is being treated at Bellevue Hospital Center in New York. Vinson "is making good progress" and no longer has detectable Ebola virus in her blood, Emory University Hospital said Oct. 24 in Atlanta. Duncan died on Oct. 8 in Dallas.
The CDC has also issued new specifications for the types and handling of protective suits used by caregivers handling cases like Ebola.
The cases of Duncan, Vinson and Nina Pham, another infected nurse now cleared of Ebola, led to the identification of more than 300 people in Texas and Ohio who may have been exposed to the disease, many of whom are under monitoring. That magnified the risk of Ebola in the public mind and fueled the impressions that the virus was spreading, and CDC had failed its job, said William Schaffner, a Vanderbilt University infectious disease specialist.
At the same time Frieden promised to stop Ebola, he said it was possible there would be other cases. The CDC aimed to deliver a "nuanced" message that the disease could be caught by health-care workers, but wouldn't spread in the broader community, Schaffner said. The absence of a case beyond caregivers has gone completely unnoticed, said Schaffner, who consults to CDC on vaccine issues.
"That distinction has been lost," he said. "Now, any spread is 'widespread.'"
It was like expecting a fire department to prevent even a single fire from starting -- "a very stunning expectation," Schaffner said in a phone interview.
The perception that Frieden was predicting Ebola wouldn't spread beyond Duncan "was incorrect," said Tom Skinner, a CDC spokesman. "The fact that people took 'We'll stop it in its tracks' to mean we won't see anything here is unfortunate."
As for the calls for the director's resignation, Skinner said "Dr. Frieden is focused on the task at hand."
The CDC's new "monitoring and movement" guidelines will require travelers from countries where the outbreak is spreading -- Guinea, Liberia, and Sierra Leone -- to report their temperature and potential symptoms to health officials for 21 days after arrival in the U.S. These measures might have identified Ebola in Duncan earlier, Frieden said in a press conference Oct. 22.
Federal officials also are developing new guidelines to address the issue of how to safely handle health-care workers like Spencer, who have been exposed to Ebola when they return to the U.S., according to one senior administration official.
Some experts have raised the possibility that the current version of Ebola has mutated into something more contagious than in the past. There's no data -- genetic or otherwise -- that supports that idea, Nichol said.
CDC has to "go back through with a fine-tooth comb and figure out why" the nurses' infections happened, Nichol said.
Health-care workers, and nurses in particular, are used to the risks of infectious disease. Severe acute respiratory syndrome, or SARS, a lung disease that spread from a Hong Kong hotel to four other continents in 2003, sickened dozens of health-care workers in China, Canada and other countries before hospitals began bolstering protections to prevent transmission.
In Guinea, Sierra Leone and Liberia, the countries where Ebola is spreading, any spate of sickness or fatalities among health-care workers must be investigated, said Jordan Tappero, deputy incident manager for CDC's global response.
As many as one in 10 reported Ebola infections occur in health-care workers, Tappero said in an interview just outside the emergency center. "It's definitely a red light," he said.
Disease trackers have already begun an intensive examination of the Dallas health-care workers to see how the virus slipped through their defenses, said Lyn Finelli, who is coordinating CDC's work in Dallas from Atlanta. The key question is, what did they do that other workers in the same situation didn't do, Finelli said.
Data that CDC has collected suggests that the nurses might have been infected before Duncan was diagnosed, Skinner said. That means they might have been exposed to the virus before they knew of the need for protective equipment.
Whatever the reason, "the guidance didn't work in Dallas," he said. "Why, we we don't know and may never know, but it's clear that the protocols they were following didn't work. That's why we came out with new guidance."
These are "uncharted waters" for a U.S. health system that has never before encountered Ebola patients, said Daniel Diekema, president of the Arlington, Virginia-based Society for Healthcare Epidemiology of America.
Most Ebola patients in Africa never have intravenous lines put in, undergo intubation to aid their breathing, or have blood drawn for testing, Diekema said. Duncan, a Liberian who flew to the U.S. and was treated at Texas Health Presbyterian Hospital Dallas, had dialysis for kidney failure, which involves blood circulating outside the body into a cleaning device. That "intensive level of care presents risk to the provider," he said.
Just like SARS, the Ebola infections are leading to a rethinking of infection control, especially in hospitals, which are now drilling their workers in putting on and taking off safety equipment. In September, the U.S. Agency for International Development issued a challenge for better equipment that would be easier to remove safely, said Diekema.
CDC is urging hospitals to drill personnel on the protection guidelines, repeating the donning and doffing of gowns, gloves, glasses and head covering until it's second nature. Everyone who checks into a hospital or clinic should expect to be questioned about whether they've recently traveled to West Africa, and have their risk of Ebola exposure assessed, said Vanderbilt's Schaffner.
"Can any guideline prevent the outcome it's intended to with 100 percent certainty?" John Brooks, a CDC medical epidemiologist, asked. "Things happen, the world is unpredictable, and when those events occur, we learn from them."