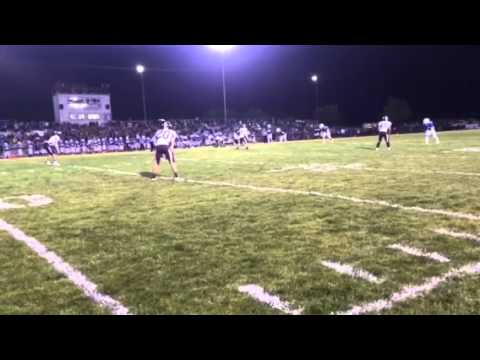 View 2 Items

TOOELE 31, CYPRUS 6: Ryan Brady punched in two rushing touchdowns while Jake Brady added another to help Tooele blow past Cyprus in its season opener.
CEDAR 20, GRANTSVILLE 16: Cedar's Brecken Lewis connected with Berick Englestead for a 21-yard touchdown to start the scoring, and Brock Oldroyd and Brecken Lewis each added a touchdown run in the second half. Grantsville's Ethan Steinfeldt connected on field goals of 53, 47, and 22 in the losing effort.
UINTAH 37, OGDEN 21: Haden Bunderson scored two touchdowns in the first half, and teammate Tyson Colton rushed for 95 yards and two touchdowns on 10 carries as Uintah pulled away from Ogden in the second half for the victory.
TIMPVIEW 27, SKY VIEW 14: Britain Covey threw three touchdown passes — two to Zach Simpson — as Timpview pulled away from Sky View on the road.
JORDAN 29, FREMONT 22: Austin Kafentzis scored on a 50-yard touchdown run with 44 seconds remaining — his second of the game — as Jordan survived a big scare. Fremont tied the game at 22s on an 18-yard touchdown pass from Justin Shaw to Paxton Merrill with 1:37 remaining.
SKYLINE 24, HURRICANE 14: Braxton Chipman opened the game with two touchdown passes to lead Skyline to an early lead over Hurricane. The Eagles picked up where they left off in the second half to claim the victory.
LOGAN 42, BEAR RIVER 16: Trailing by 16 at the half, Logan erupted for 30 points in the second and third quarters. The Grizzlies then outscored Bear River by 12 in the fourth quarter to seal the win.
PLEASANT GROVE 28, ALTA 14: The Vikings scored all of their 28 points in the second half to claim the come-from-behind victory over the Hawks. Hayden Pettis crossed the pylons three times to spark the PG offense in the win.
BINGHAM 33, DAVIS 14: Bingham had a shutout going heading into the fourth quarter, and despite yielding two touchdowns in the final frame earned the season-opening victory over Davis. Auston Smith led the Miners with two touchdowns.
VIEWMONT 29, BONNEVILLE 8: Hunter Anfinson earned two rushing scores and connected with Jared Barnum for a passing touchdown in the win over Bonneville.
ENTERPRISE 32, DIAMOND RANCH 0: Kelton Hunt scored four TDs to carry Enterprise past Diamond Ranch.
RIVERTON 48, GRANGER 14: Cameron Christensen ran for four touchdowns, while Paden Cayias added two more as visiting Riverton rolled past Granger to open the season with a victory. The Wolves built a 28-0 lead at the break.
WEBER 33, WEST 20: The Warriors scored 20 points in the second quarter, then held on for the victory over West. Cole Dean accounted for two touchdowns in the win.
STANSBURY 44, NORTH SANPETE 13: Landon Stice scored on a fumble recovery and on a pair of receiving touchdowns as Stansbury cruised to victory. Josh Griffith added two TDs, one rushing and one receiving.
TIMPANOGOS 25, WASATCH 22: Timpanogos used a steady effort to build a lead in the first half that it didn't relinquish despite a late rally from Wasatch. Tyler Schade scored twice for the Timberwolves and Jake Ware and Tyler Sweeten each added a touchdown. Three different players scored for the Wasps.
MANTI 35, MOUNTAIN VIEW 20: Bradley Sego rushed for three touchdowns and added another on an 81-yard TD reception as Manti took care of business with a preseason victory over Mountain View for the second straight season.
SPRINGVILLE 37, DIXIE 30: Parker Johnston found the end zone from 15 yards out with 1:40 remaining to lift Springville over Dixie. Scott Averett's four touchdowns led the Red Devils, while McLane Keenan's three scores paced the Flyers in defeat.
HUNTER 25, LAYTON 17: McKay Meidlinger ran for one touchdown and passed for another as Hunter held off Layton. Noah Togiai also rushed for a TD for the Wolverines, while Joseph TiaTia exploded for a game-high 265 yards and a touchdown to lead Hunter in the win.
SOUTH SEVIER 28, GUNNISON 0: Trevor Jones threw two touchdown passes and recorded a pick-six to help South Sevier shut down Gunnison.
JUDGE MEMORIAL 18, PINE VIEW 16: An Ayden Auer touchdown early in the fourth quarter proved the difference as Judge held off Pine View despite a late charge from the Panthers. BYU-bound quarterback Kody Wilstead tossed two touchdowns for Pine View in defeat.
BEAVER 28, CANYON VIEW 22: The Beavers scored two fourth-quarter TDs, both Branston Blackburn receptions from Matthew Robers, to rally for the win at Canyon View. Roberts completed 10 of 15 passes for 213 yards, with all three TDs going to Blackburn. Roberts added 78 rushing yards on 19 carries.
CORNER CANYON 41, JUAN DIEGO 3: Corner Canyon's Mike Ebeling, Tyson Rogers and Riley Ogden all had a pair of touchdown runs en route to victory.
UNION 48, BEN LOMOND 34: Weston Horrocks had an impressive night, amassing five touchdowns to help Union knock off Ben Lomond at home. Angelo Rios ran for over 100 yards and scored two TDs to power Ben Lomond in the loss.
SYRACUSE 31, BOX ELDER 28: Romney Harker connected on a 33-yard field goal in the third overtime and Colton Yardley's interception in the end zone sealed the deal as Syracuse beat Box Elder in a thriller. Connor Udy scored three times for Box Elder.
PAROWAN 46, MILFORD 7: Brenen Rowley ran for three touchdowns and added another on a 50-yard TD pass from Jake Smith in Parowan's blowout victory.
SNOW CANYON 42, COPPER HILLS 35: Jake Frei threw four touchdowns to Chance Thorkelson, including the game-winner in overtime, as Snow Canyon held off Copper Hills in a wild season-opening overtime game. Snow Canyon trailed 21-7 at the half, but scored 28 unanswered in the second half to take a 35-21 lead before Copper Hills rallied to send the game into overtime.
NORTH SUMMIT 40, ALTAMONT 0: Carson Richins ran for five of North Summit's six touchdowns in the Braves' victory over Altamont.
WOODS CROSS 19, MAPLE MOUNTAIN 7: Tomas Giles rushed for 93 yards and three touchdowns as Woods Cross held off Maple Mountain to open the season with the victory.
BRIGHTON 24, AMERICAN FORK 23: A 75-yard kickoff return by Drew Jensen completed Brighton's fourth-quarter comeback over American Fork. It was Jensen's second touchdown of the evening. Cody Barton returned an interception to the house for the Bengals, while Zach Katoa threw one touchdown and ran for another to lead the Cavemen.
BOUNTIFUL 28, LONE PEAK 21: The Braves scored three straight rushing touchdowns — one by Houston Heimuli and two by Kaden Simmonds — to lift Bountiful to victory.
SUMMIT ACADEMY 40, EMERY 7: Hagan Hines ran for two touchdowns and Tyson Dais and Jake Kartchner both scored defensive touchdowns in the second half as Summit Academy rolled past Emery.
SAN JUAN 44, MONTICELLO 7: A big third quarter helped San Juan separate itself from Monticello. Trason Jack scored twice.
TAYLORSVILLE 34, KEARNS 0: Toa Muamua ran for three touchdowns as the Warriors blanked the Cougars on the road. In the loss, Kearns' Amone Finau rushed for 83 yards, while Grayden Luckhart added 55 receiving yards on four receptions.
HIGHLAND 16, MOUNTAIN CREST 13: Jake Pembroke scored on an 80-yard run to start the scoring and Alassane Niang returned the second-half kickoff 94 yards.
NORTH SEVIER 35, AMERICAN LEADERSHIP 19: North Sevier outscored ALA 35-6 in the first half to earn the season-opening victory. Fisher Anderson completed 15 for 17 for 195 yards and two touchdowns as the Wolves snapped their 25-game losing streak.
DESERT HILLS 35, OREM 13: Desert Hills capitalized on a big second quarter, then cruised in the final frame to claim the victory over Orem.
SOUTH SUMMIT 21, PARK CITY 6: Colby Averett scored a pair of rushing touchdowns and Isaac Tillett added another as South Summit built a 21-0 lead after three quarters en route to an impressive victory over Park City. Grayson Maddux scored the Miners' lone touchdown in the fourth quarter.
OLYMPUS 10, COTTONWOOD 6: Olympus built a 10-0 halftime lead and then held on for the narrow preseason victory over Cottonwood.
MURRAY 49, LEHI 29: Riley Richmond had four touchdown receptions for the Spartans, while Drew Cash contributed 273 passing yards to give Murray the win over Lehi.
JUAB 14, MILLARD 0: In a game called at the half due to weather, Juab earned the victory thanks to a rushing TD by Payton Bowring and a receiving touchdown from Nolan Nielsen.
EAST 24, NORTHRIDGE 15: East's John Mafi scored two early rushing touchdowns — one from 10 yards out and the other from 23 yards out — to lift East to the non-region win.
HERRIMAN 30, WEST JORDAN 0: Herriman dominated the first half and never looked back en route to whitewashing West Jordan.
ROY 49, CLEARFIELD 21: The Royals took advantage of a 21-point second quarter to cruise past Clearfield. Quarterback Tyler Skidmore threw touchdown passes of 48, 9, and 10 yards to lead the Roy effort.
RICHFIELD 6, KANAB 0: Brandon Willardson punched in a 1-yard run midway through the second quarter to give the Cowboys the lead that would hold.
CARBON 30, GRAND 12: Carbon used a steady offensive attack and stout defense to beat Grand. Garrett Blanc led the way for the Dinos with two touchdowns, while Tanner White ran for one touchdown and passed for another to carry Grand.
PROVO 19, PAYSON 8: Provo scored 19 points in the second and third quarters to knock off Payson on the road. Chase Heiner led the way with two scores in victory.
SALEM HILLS 22, HILLCREST 15: Cooper Smith returned a punt 45 yards for a touchdown, while Neil Davis added a receiving touchdown and Jaxon Bowden a rushing TD as Salem Hills opened the season with a victory.