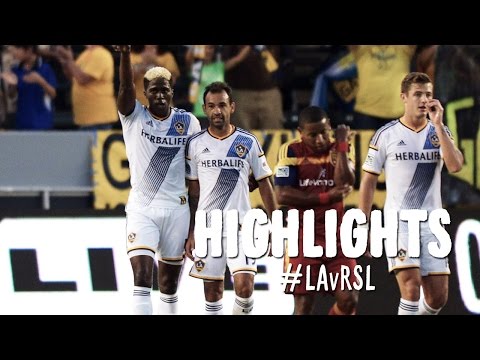 View 6 Items

CARSON, Calif. — Real Salt Lake now has another team to worry about in the race for playoff spots in Major League Soccer's Western Conference.
That team, the L.A. Galaxy, used Gyasi Zardes' goal in the 20th minute to earn a 1-0 victory in front 19,882 at StubHub Center.
RSL (7-4-7) now has gone winless in seven of its last eight games in all competitions, including the U.S. Open Cup.
Meanwhile, the Galaxy (6-3-6) moved within four points of second-place RSL, which holds that position over the Colorado Rapids.
Marcelo Sarvas began the scoring sequence with a long run down the right flank before crossing the ball. Landon Donovan allowed the ball to roll past him and set a screen for Zardes, who Joao Plata marked tightly.
When Plata fell, Zardes fired a 19-yard shot that first ricocheted off the inside of the left-wing goalpost, then caromed off the opposite post before crossing the goal line.
Los Angeles relied on a patchwork back line to stifle RSL. With Omar Gonzalez and Todd Dunivant injured, the Galaxy started A.J. DeLaGarza and Tommy Meyer at central defenders, with Robbie Rogers and Dan Gargan as outside backs.
Only DeLaGarza and Gargan have been regular starters, and Gargan entered the lineup earlier this season because of an injury to James Riley.
Yet despite controlling possession in the first half, RSL failed to create potent chances. RSL sent outside back Chris Wingert and Tony Beltran into the attack in the second half, and nearly scored the tying goal.
Beltran sent a cross from the right wing to Plata, who shot a low line drive from 11 yards in the 62nd minute. But the Galaxy's Jaime Penedo lunged to his left to parry Platas shot away.
Ned Grabavoy had another chance to get the tying goal in 89th minute but his 7-yard shot off Olmes Garcia's through ball just missed the right wing post.