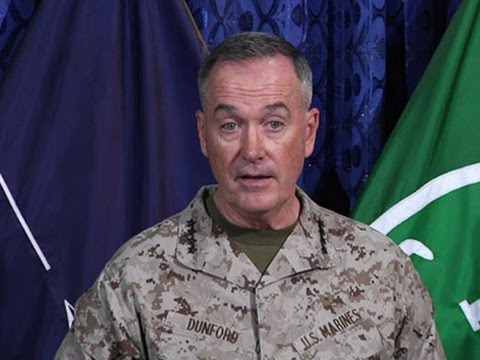 View 2 Items
Associated Press

KABUL, Afghanistan — The top U.S. and coalition commander in Afghanistan said Wednesday that President Barack Obama's decision to keep about 10,000 American troops in the country past 2014 has eliminated any uncertainty Afghans may have had about America's commitment.
Gen. Joseph Dunford told reporters the decision will allow an advisory force of 9,800 troops to remain in the country to finish training and equipping Afghan security forces.
"I believe that this decision was good news for the Afghan people," Dunford said. "It eliminates the uncertainty about the future here in Afghanistan, in the region and within the coalition."
He added that it "also sends a message to those who said that Afghanistan would be abandoned at the end of the year and that simply isn't true. "
Obama announced plans Tuesday for keeping nearly 10,000 U.S. troops in Afghanistan after this year, then quickly withdrawing nearly all of those forces by the end of 2016. NATO and other U.S. allies also are expected to commit troops, bringing the total to be around 12,000.
Some American troops are also expected to play a counterterrorism role, chasing any elements of al-Qaida and other such groups still operating in Afghanistan.
The commitment is conditional on Afghanistan's government signing a stalled bilateral security agreement. While Afghan President Hamid Karzai has refused to sign it, both the candidates running to replace him — former Foreign Minister Abdullah Abdullah and ex-Finance Minister Ashraf Ghani Ahmadzai — have said they will.
"The presence of U.S. soldiers is important to protect the territorial integrity and the stability of Afghanistan," Ahmadzai's spokesman Hamidullah Farooqi said.
More than $4 billion to equip, train and pay the Afghan security forces through 2016 is also contingent on signing the agreement. A failure to fund the Afghan security forces likely would have meant their rapid dissolution in the face of an insurgency that shows no signs of weakening or abating.
Karzai said he welcomed the decision that would over time lead to the eventual withdrawal of U.S. forces in 2016 and called on the Taliban to take advantage of Obama's announcement and end their insurgency.
"President Karzai calls on the armed opposition groups of the country to use this historic opportunity and put an end to their fighting, for which they used the excuse of the presence of foreign forces, and come and join hands in a peaceful process and move their country toward dignity, progress and prosperity."
The Taliban said Wednesday that Obama's announcement did not mean an end of the war, promising to keep fighting until the last foreign soldier leaves.
"If there is one American soldier in our country, this is not acceptable for us and for our nation. Our jihad will continue till the last American soldier leaves Afghanistan," the group said in a statement emailed to journalists.
Afghan forces took the lead in fighting insurgents last year as foreign forces stepped into an advisory role and began to withdraw.
There are currently about 32,000 U.S. troops in Afghanistan. Under Obama's plan, that number would be reduced to 9,800 by the start of 2015, with those troops dispatched throughout Afghanistan.
Over the course of next year, the number of troops would be cut in half and consolidated in Kabul and at Bagram Air Field, the main U.S. base in Afghanistan. Those remaining forces largely would be withdrawn by the end of 2016, with fewer than 1,000 remaining behind to staff a security office in Kabul.
Reconciliation talks with the Taliban have not managed to get off the ground since an effort to get them started collapsed last year.
"The president's decision in the support, train and advice and assist mission provides us the opportunity to finish developing a capable, incredible Afghan army and police force," Dunford said. "We will also continue to keep pressure on al-Qaida with a sustained counterterrorism effort."
Associated Press writer Patrick Quinn in Cairo contributed to this report.