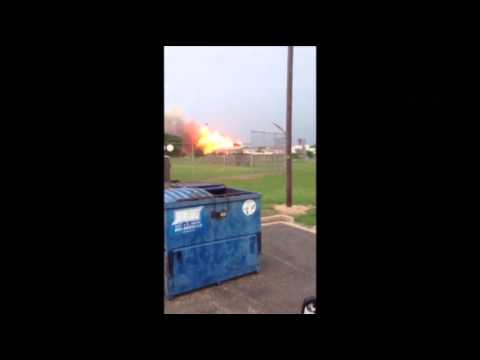 View 19 Items
Associated Press


WEST, Texas — Brian Renegar saw emergency crews fighting a blaze consuming his small Texas town's sprawling fertilizer plant. The former plant employee raced to the scene and warned the fire chief to get everyone out.
"(It's) gonna blow," Renegar, also a volunteer firefighter, told the chief as he drove by the scene in West. Minutes earlier, he urged another firefighter to evacuate to at least a half mile away.
The West fire chief issued no such order after hearing from another firefighter that the massive amounts of ammonium nitrate stored at the plant would likely not explode. But minutes later, it did — killing 15 people, including 12 responding to the fire, and leveling West Fertilizer Co. along with nearby homes and schools.
The narrative of those minutes leading up to the April 2013 explosion was included in a report released Thursday night by the Texas State Fire Marshal's Office that concluded firefighters weren't prepared for the dangers of the blaze. Renegar was among those who survived.
The report also concluded that firefighters weren't to blame and were victims of a "systemic deficiency in training and preparation" for a fire that was too big for them to fight.
"It's very hard because my husband walked out of the door for a fire call and never came back," Carmen Bridges, the widow of firefighter Morris Bridges, said after a town meeting where victims' relatives and neighbors were given the report. "And it could have been prevented."
The report also renewed calls for state and local action to better prepare first responders.
"The lack of adherence to nationally recognized consensus standards and safety practices for the fire department exposed firefighters to excessive risks and failed to remove them from a critically dangerous situation," the report said.
Investigators concluded that firefighters' water didn't cause the explosion, noting they were trying to stop a blaze "significantly beyond the extinguishment phase."
Even as some first-responders expressed misgivings about the size of the fire, the firefighters did not pull back, according to the report. One of the West volunteer firefighters, Cody Dragoo is quoted in the report as telling another firefighter that the building had ammonium nitrate but "it could never get hot enough for it to go off." Dragoo died in the blast.
Emmanuel Mitchell, an assistant West fire chief who survived the blast, told investigators he remembered thinking firefighters "needed to go" but did not order a withdrawal. Renegar also warned West Fire Chief George Nors Sr. that an explosion could occur. Nors declined comment when reached by The Associated Press on Friday.
The report does not draw conclusions about what may have caused the initial fire, which is perhaps the biggest unanswered question.
Federal and state investigators last year identified three possible causes — a golf cart battery, an electrical system or a criminal act — but no final determination has been made. Investigators have said they may never know.
The report, echoing recommendations from fire experts and previous investigations, said the state should adopt training standards for volunteer firefighters and allow all counties to enact a fire code, which state law currently prohibits.
Local firefighters and agencies also need to establish plans for dealing with large-scale commercial fires and hazardous materials such as ammonium nitrate, a common but highly flammable ingredient in fertilizer that is sold all over Texas.
The report calls for a mandatory retrofitting of buildings that store ammonium nitrate to add sprinklers, which West Fertilizer Co. did not have.
Many of the first responders' widows, children and friends still live in West, a town of 2,800 residents with a strong Czech heritage inherited from the immigrants who settled the area a century ago.
Fire Marshal Chris Connealy introduced the report to some of them at a closed-door meeting Thursday night.
Speaking after the meeting, Bridges said she found some closure in hearing the fire marshal's findings and hoped they would help prevent a future incident like the one that killed her husband.
"Everybody's going to learn something from this," she said.
Online: Fire marshal's report: http://www.tdi.texas.gov