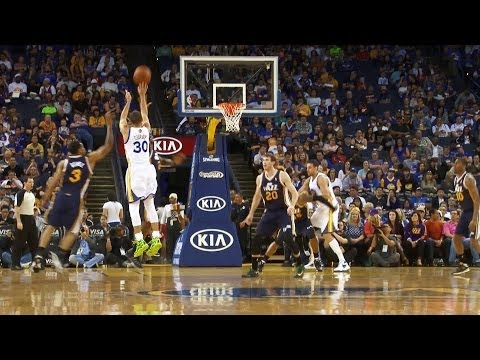 View 8 Items

Alec Burks provides just the kind of spark off the bench that produces instant results. His ability to get to the foul line helped keep the Utah Jazz within shouting distance of Golden State through the first half.
However, the Warriors pulled away in the third quarter, behind the shooting of Stephen Curry and Klay Thompson, to beat the Jazz, 130-102, Sunday night.
Burks and rookie point guard Trey Burke each scored 24 points for Utah, which has lost 17 of its last 20 games and was swept by the Warriors in the season series for the first time ever.
The soft-spoken Burks let his ability do most of the talking.
"He's done a great job for us," Jazz coach Tyrone Corbin said. "He's a guy who can put the ball on the floor and get to the basket. He's found a rhythm here in the second half of the season."
Burks reached double figures in his 25th consecutive game after doing so 25 times in the previous 39 games. Much of his success comes from getting to the foul line often. He's attempted a team-high 363 free throws this year and hit a career-high 14 of 16 in Sunday's loss. He's 27 of 29 over the past two games.
"That's how I play. I am going to be aggressive," said Burks, who also matched his career-high with four steals. "I attack a lot. That's how I've always played."
It's a good lesson for Trey Burke, who recorded a season-best 15 assists to go with his scoring. The rookie point guard averages less than two free throw attempts a game. As he learns to be more aggressive, Burke will benefit from following Burks' example.
"That's why I left him out there," Corbin said. "I want him to understand that, as a point guard, they will follow his lead. You have to keep pushing. He has to get better but I liked the way he stood in there."
Derrick Favors and Gordon Hayward each added 10 points and Enes Kanter had a team-high 12 rebounds for the Jazz, who host the Dallas Mavericks on Tuesday night.
"Nobody is going to feel sorry for us or where we are," Corbin said. "Dallas is fighting for a playoff spot and will try to jump us early. We have to be ready to go each and every night out."
Favors scored the game's first basket and that was the only time Utah led all night. The Warriors led by as many as 15 in the first quarter. Golden State went up 40-22 with 10:20 remaining in the first half before the Jazz scored 13 unanswered points, with Burks getting eight of them, to pull with 40-35 two minutes later.
"The energy we played with in the second quarter; we need that for 48 minutes," Corbin said. "In the third quarter, they were the aggressors and they made some shots against us."
Curry and Thompson combined for 64 points, each scoring at least 30 points in the same game for the first time. They were 23 of 38 (61 percent) from the field.
"I had to guard both of them," Burks said. "They can really shoot. That's what changed the game for them. With my wing span I can guard anybody, but they were just hot."
They helped the Warriors record a season-high in points and lower their magic number to clinch a playoff berth to three. Golden State was also a season-best 17 of 33 (51.5 percent) from range.
"The only thing we can do is go out there and play hard," Favors said. "We have to give it our best and try to win the game."
Forward Erik Murphy, whom the Jazz acquired off the waiver wire on Saturday, will join the team in Salt Lake on Tuesday.