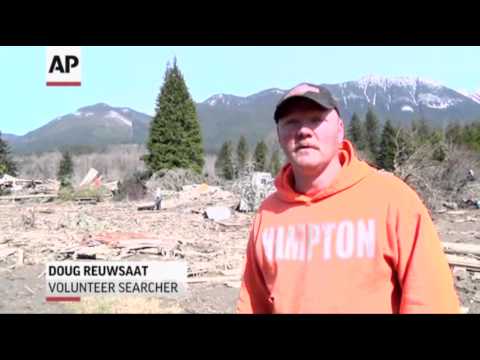 View 2 Items
Associated Press

SEATTLE — From the air, the area devastated by a massive landslide in rural Washington state looks like a muddy lake of felled trees, dirt, rocks and remnants of what used to be people's homes.
As search efforts stretch into the third day, here are five things to know about the catastrophe:
VOICES CALLING OUT: Late Saturday, rescuers heard people yelling for help but were unable to reach anyone. The soupy, quicksand-like mud was so thick and deep that searchers had to turn back. When crews were able to get back onto the debris field Sunday, they found only more bodies. "We didn't see or hear any signs of life," Snohomish County Fire District 21 Chief Travis Hots said Sunday evening.
THE DEAD, THE MISSING, THE DAMAGE: The death toll is at least eight. On Monday, authorities said 108 names were on the list of people reported missing or unaccounted for, but they cautioned that figure likely would go down. Dozens of structures in a riverside community were destroyed, including many full-time homes.
BIG WALL OF MUD: The 1-square-mile mudslide that struck late Saturday morning was described as a "big wall of mud and debris." It was reported to be 15 feet deep in some areas. It blocked State Route 530 near the town of Oso, about 55 miles north of Seattle.
FLOOD WORRIES: The slide also crashed into the North Fork of the Stillaguamish River, blocking it. With the water pooling behind the debris, authorities worried about downstream flooding and issued an evacuation notice Saturday. The water has begun to seep through the blockage, alleviating some of those concerns.
POSSIBLE CAUSES: Snohomish County Department of Emergency Management officials say the area has a history of unstable land. A slide also happened there in 2006. Authorities believe the latest slide was caused by the ground being saturated by recent heavy rainfall. David Montgomery, an earth and space sciences professor at the University of Washington, said these deep-seated slides tend to occur from rainfall over months or seasons. "This was a big deep one, a giant slump," he said.
Associated Press writers Phuong Le and Donna Gordon Blankinship contributed to this report.