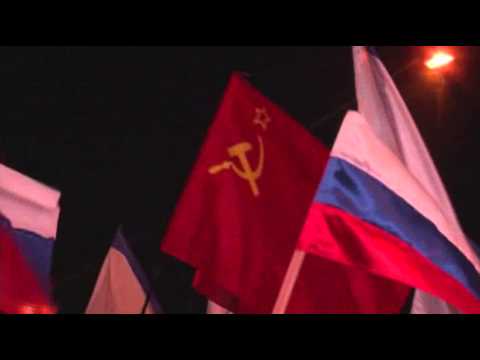 View 2 Items
Associated Press

LONDON — Confirmation that the people of the Ukrainian region of Crimea have voted to join Russia caused barely a ripple in financial markets Monday, partly because the verdict had been widely discounted.
Worries that the Crimea issue might prompt an escalation in tensions between Russia and Western powers have driven financial markets over the past few weeks. In the run-up to Sunday's referendum, many stock markets around the world hit multi-week lows while 'safe haven' investments such as the Japanese yen and gold advanced.
Claiming the referendum is unlawful, the U.S. has threatened Russia with sanctions should it annex Crimea. European Union foreign ministers are also expected to agree on a list of individuals to target for asset freezes and travel bans.
"At least for now it would seem the market has already discounted much of present risks, having sent stock indices to their monthly lows last week," said David White, a trader at Spreadex. "Yet as with all ongoing geopolitical concerns, volatility is unlikely to die down completely."
In Europe, the FTSE 100 index of leading British shares was up 0.5 percent at 6,558 while Germany's DAX rose 0.7 percent to 9,122. The CAC-40 in France was also 0.7 percent higher at 4,245.
Wall Street was poised for a solid opening, too, with Dow futures and the broader S&P 500 futures 0.6 percent higher.
Much of the focus across global markets will be Wednesday's policy meeting at the U.S. Federal Reserve. Most investors think the Fed will continue trimming its monetary stimulus program at the pace it has already set. It is expected to cut the stimulus by $10 billion for a third time to $55 billion worth of monthly bond purchases.
Figures due later, such as monthly industrial production data, will be viewed in the context of the Fed policy. Strong data will reinforce expectations that the Fed will go ahead with its stimulus cut.
"Arguably the more pressing economic release will be Chinese property price data that's due overnight tonight," said Joao Monteiro, analyst at Valutrades. "There are big concerns about a slowdown in the local real-estate market having repercussions across the board."
Worries over the Chinese economy, the world's number 2, have also been a driver in financial markets over the past few weeks, particularly in Asia.
Earlier, Japan's Nikkei 225 fell 0.3 percent to close at 14,277.67 while South Korea's Kospi edged up 0.4 percent to 1,927.53. Hong Kong's Hang Seng dipped 0.3 percent to 21,473.95. In mainland China, the Shanghai Composite rose 1 percent to 2,023.67 after officials announced on the weekend that exchange rate controls would be modestly eased. It was the latest step in an eventual plan to let the yuan float freely.
The dollar rose to 6.1773 yuan, up 0.4 percent from late Friday, and is at the highest since the end of June last year, according to FactSet data. The yuan has reversed course recently after strengthening steadily for years. Analysts believe the central bank is guiding the exchange rate lower against the dollar in an effort to discourage speculators from moving money into the country to profit from the yuan's rise.
The dollar was firm across the board. It was up 0.4 percent at 101.77 yen while the euro fell 0.2 percent to $1.3890.
Kelvin Chan in Hong Kong contributed to this report.