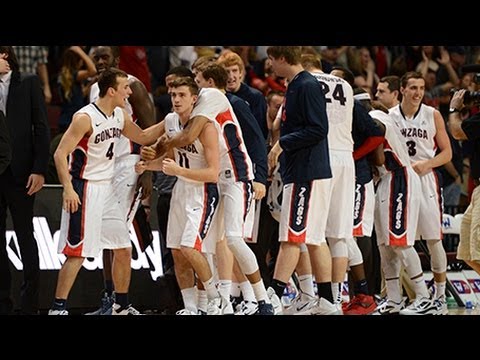 View 4 Items


He's quick and crafty. He's going to get it to the rim or find a shooter.

—Sam Dower Jr.
LAS VEGAS — The first full day of the WCC men's basketball tournament began with a show of rugged toughness by San Francisco. Then Brigham Young won a game as much by guarding as it did with its usual frenetic pace.
And then Gonzaga, the regular-season winner, in what loomed as a bye into the semifinals against Santa Clara, the No. 212 RPI computer team in the nation.
Bye? For the Zags it was almost bye-bye. They won, 77-75, in a decision that couldn't have been much more dicey.
So maybe the party line of the conference — that anybody can beat anybody this year — has a ring of truth to it. Parity, as well as showgirls, on parade in Las Vegas.
This was Gonzaga's world with 9.1 seconds remaining: The game was tied at 75, courtesy of the fact Santa Clara would not, could not, be put away. Zags coach Mark Few decided to put the ball in the hands of his best playmaker, David Stockton, whose father made a play or two in his Naismith Hall of Fame career.
"He's got a real knack for making plays at the ends of games," said Few.
So Stockton ambled the ball up the floor, crossed midcourt at six seconds and accepted a ball screen around the three-point line from forward Sam Dower Jr.
Stockton kept coming, kept coming. He wove down the left side of the lane, corkscrewed his body and flipped in a tough little layup from that side.
"I could have gotten called for an offensive foul," he said candidly in the locker room half an hour later. "Oh yeah. Oh yeah." Joshing about his 5-11, 165-pound frame, he added, "Nobody's expecting me to try to clear space."
Said Dower, "He's quick and crafty. He's going to get it to the rim or find a shooter."
All that rested in Stockton's hands was just possibly the preservation of its 15-year streak of NCAA tournament appearances. The Zags' resume wasn't the usual Grade A stuff in 2013-14, and though it appeared they were in the field, losing to a 14-19 team with the worst computer ranking in the conference might have caused some sweaty palms around Spokane for the next week.
A happy Stockton, now playing the last games of a fulfilling career that began as a walk-on, had no sooner entered the locker room than somebody informed him that he had a sibling trying to steal his headlines. His sister Laura is part of the Gonzaga Prep team that won a state 4A girls title Saturday.
"It's really cool to be a part of our family right now," Stockton said.
"How many did Laura have?" he asked nobody in particular.
"It doesn't matter, she overshadowed you," assistant coach Brian Michaelson shot back in perfect dressing-quarter repartee.
Most of the overshadowing on this night was done by the Broncos, who used their quick guards to penetrate, create shots and do everything but send a few thousand Zag fans to the airlines to rebook early flights home.
Jared Brownridge, a 6-2 freshman who somehow got out of Aurora, Ill. to Santa Clara, bedeviled Gonzaga with 18 first-half points. He was the next thing to unguardable.
Gonzaga led with 13 minutes left before intermission, lost it and didn't regain it until 4:31 remained — on a drive by Stockton.
With Dower completing a flawless 15-for-15 night at the foul line that tied the WCC tournament record, the Zags appeared to be out of the woods, with a five-point lead with 38 seconds left. But they gave up a three-point play to Evan Roquemore, and after a travel by Gary Bell, Jr., Brownridge looped in a 17-footer to tie it at 75.
"He's the only kid I've seen since Adam (Morrison) that can hit a closely guarded shot," Few said, shaking his head.
Few, who railed years ago at a WCC tournament format that jeopardized its top seeds, revisited that theme surrounded by four reporters. With Pacific having joined the league to bump membership to 10, and with the women playing the identical format, the games advancing seeds 7-10 are followed by a day off.
"It's a setup for a 10 seed or an 8 to advance," he said. "They get a day off to rest up, they're used to the rims, they're comfortable.
"What we need to do is take the women's tournament and move it — let it stand on its own and quit acting like High School Harry."
That could be a topic for another day. The Zags very nearly had a lot of time on their hands to think about it.
———
©2014 The Seattle Times
Visit The Seattle Times at www.seattletimes.com
Distributed by MCT Information Services
_____
Topics: g000065558,g000362661,g000226281,g000066164