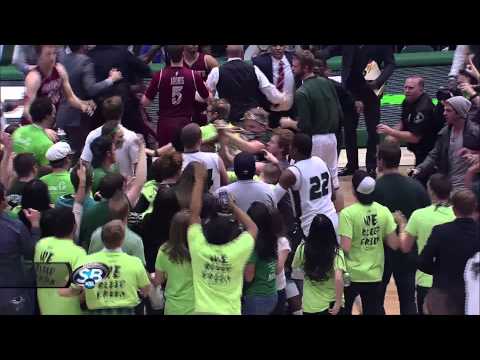 View 8 Items

OREM — A New Mexico State basketball player has been suspended in the aftermath of an ugly incident at the conclusion of Thursday night's Utah Valley-New Mexico State game.
New Mexico State coach Marvin Menzies said K.C. Ross-Miller, who precipitated the brawl that has garnered national attention, is being suspended.
"After reviewing the tape of the game and the events that immediately followed, a decision has been made to immediately suspend K.C. Ross-Miller," Menzies said in a statement. "No matter what provoked KC, what he did was inexcusable and hence the suspension. It is an honor and a privilege to wear an Aggie uniform and a responsibility comes with that privilege. I will wait until I've had a chance to talk with our conference officials and university administration before any other disciplinary actions may or may not be taken.''
Just as the game, a 66-61 UVU overtime victory, was ending, Ross-Miller hurled the ball at Utah Valley's Holton Hunsaker's leg. Some words were exchanged and a melee erupted just as UVU fans were storming the court to celebrate the victory that put the Wolverines atop the Western Athletic Conference standings.
The video of the brawl, which lasted about a half a minute, quickly hit social media and was shown on ESPN's SportsCenter along with commentary about the dangers of fans rushing the court after games.
UVU coach Dick Hunsaker, who can be seen hitting the floor twice during the skirmish, trying to break things up, said he was fine afterward, although his neon green jacket was nowhere to be seen.
"It's too bad that occurred,'' said coach Hunsaker. "I'm sad to see players put themselves in those types of positions.''
UVU center Ben Aird, who led his team with 21 points, said he and his teammates tried to get out of the commotion as quickly as possible.
"You almost want to break it up, but then you realize you just have to get out of the situation,'' he said. "Our faculty did a great job — they said just get out of here, get in the tunnel and don't let anything happen. It's very disappointing. It's one of those things where you hate to have a game end that way.''
Utah Valley University released a statement regarding Thursday's postgame incident late Friday morning, but didn't say whether the university would take any action against students involved in the melee or take measures to avoid fans rushing the court.
"The incident following Thursday's game was an unfortunate and sour end note to an otherwise brilliant performance by both teams,'' the statement read. "The Western Athletic Conference and both universities are reviewing the incident and gathering information. Any questions should be directed to the WAC office.''
The WAC is conducting a full review of the incident, a league spokesman said Friday. WAC Commissioner Jeff Hurd was traveling to Cal State Bakersfield (where the Aggies play next) on Friday for a previously scheduled trip and will be meeting with Menzies to discuss what happened. A statement from the conference is expected later Friday.