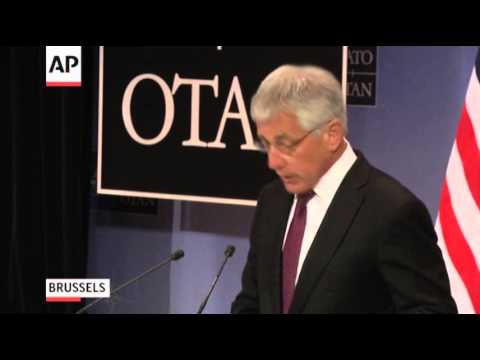 View 5 Items
Associated Press

BRUSSELS — U.S. Defense Secretary Chuck Hagel urged Russia on Thursday not to take any action on Ukraine that could be misinterpreted.
At a news conference after a NATO defense ministers meeting, Hagel cited a concern that Russia could act in a way that would lead to miscalculation during what he called a "delicate time."
Hagel said the U.S. is closely watching Russia's military exercises along the Ukrainian border, and that the U.S. strongly supports Ukraine's territorial integrity. He said the U.S. expects all nations to respect Ukraine's sovereignty and avoid provocations.
The defense secretary said his staff was trying to set up a phone call for him with the Russian defense minister, Sergei Shoigu, and that U.S. Secretary of State John Kerry would also be talking to Russian Foreign Minister Sergei Lavrov.
"This is a time for very cool, wise leadership, on the Russian side, and on everybody's side," Hagel said.
Hagel and other NATO ministers met earlier in the day with Ukrainian officials.