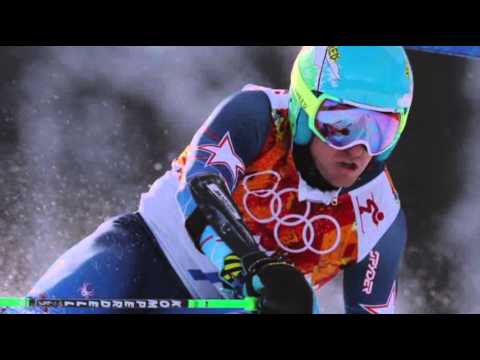 View 16 Items
Associated Press

This one is way more meaningful than my first one. In some ways, I'm not going to say it was easy, the first gold medal. But it came a lot easier. There was a lot less struggles of the World Cup, struggles of the grind.

—Park City's Ted Ligety
KRASNAYA POLYANA, Russia — Like a cleanup batter facing full count in the bottom of the ninth with the World Series on the line, Park City's Ted Ligety stepped to the plate Wednesday afternoon and delivered the Alpine equivalent of a grand slam over the center-field wall.
"Today was awesome," the 29-year-old ski racer said after he earned the second Olympic gold medal of his career with a decisive victory in what's become his marquee event — the giant slalom. "There's not really any other way to put it. This is something I've been working for since I was a little kid. … This was really the event I wanted to win."
And in the craggy Caucasus Mountains, carving turns like no one else knows how, the man known as "Shred" fulfilled that childhood dream.
"It's a huge relief," said Ligety, who won with a combined time of 2:45.29. "I've been wanting to win this medal my whole life."
That desire became more urgent after Ligety, who won a gold medal in the combined in the 2006 Winter Olympics, came up empty in Vancouver. The agony of leaving the 2010 games without a medal of any kind, in any event, made Wednesday's victory that much sweeter.
"This one is way more meaningful than my first one," he said. "In some ways, I'm not going to say it was easy, the first gold medal. But it came a lot easier. There was a lot less struggles of the World Cup, struggles of the grind."
When he won in 2006, he hadn't skied with the burden of the spotlight. He didn't have to answer the questions about why expectations couldn't be met.
"To win a gold medal now, having Vancouver being really tough, and the Olympics so far here being somewhat lackluster, to go out and throw down in the event I had the most pressure in and I was favored in, to be able to do that is awesome."
Ligety wasted no time letting everyone know he planned to swing for the fence. His first run was nearly a full second faster than the next best skier, allowing him some breathing room on the second run.
"He's shown for several years that he's the best GS skier," said five-time Olympic medalist Bode Miller, who raced for the final time in Wednesday's GS, finishing 20th. "Especially when conditions are like this."
Fellow Utahn, Jared Goldberg watched Ligety's run, and like everyone else on the hill, he was in awe.
"I was pretty blown away by how well he skied," said the Skyline High graduate, who finished 19th with a time of 2:47.48. "It's really hard to see even where he makes up all that time; he's just so smooth."
Ligety looked calm and comfortable as he carved the mountainside he talks about with the familiarity of a local boy. Knowing when and where to ease up or push harder came, in part, from an agreement the U.S. skiers have with the Russian Federation. The two groups trade training time on each other's home courses so he's had enough time on the hillside to feel at ease.
But if there is one thing Ligety has learned in his career, it's that there are no guarantees in ski racing.
"Ski racing is probably the least guaranteed sport out there," he said. "It's really rare when the favorites win. So far here this is the first event that an actual favorite's really won. That's pretty regular on the World Cup. The best in the world are on the podium often times but don't always win. It's easy to say they failed because they get third or second or fourth or fifth. It's not that simple."
Then again, if there is one thing Ligety has done, besides pioneer a unique — and effective — way to navigate a slalom course, it's deliver consistently in the GS once he has a lead.
"There were a lot of places in this course where you could easily lose it," Ligety said, acknowledging he did just that as he skied the 14th fastest run in the second round of slalom. French skier Steve Missillier won silver (2:45.77) and his teammate Alexis Pinturault won bronze (2:45.93). "I'm really glad I had a good buffer. If I didn't have that buffer, it would have been hard to have thrown down as hard as you possibly could, you know."
The man who owns four World Cup championships and two GS world championships said finally having his Olympic moment was both a relief and a thrill.
"All season long everybody talks about the Olympics, Olympics, Olympics," Ligety said. "At a certain point I was just like, 'Let's do it already. Let's just get this thing over with so we can stop talking about the pressure and everything with it.' "
Luckily, just like he's developed a way to ski slalom courses faster than anybody in the world, Ligety has also learned to handle the intense, unforgiving glare of the spotlight.
"The Olympics is never easy," he said smiling. "I'm just happy to have skied the way I know I can ski."
Twitter: adonsports
EMAIL: [email protected]