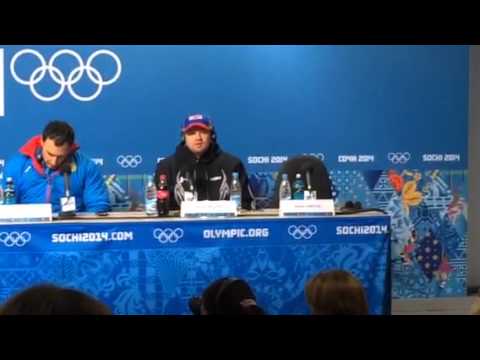 View 24 Items
Amy Donaldson, Deseret News

It's overwhelming. This is my second 62-year drought, which is awesome. If anybody else has a 62-year drought they need to break, let me know. I'll try to help you out.

—Park City's Steve Holcomb
KRASNAYA POLYANA, Russia — If the best American pilot hoped to win the first Olympic medal in two-man bobsled for the U.S. in 62 years, everything had to be perfect.
At least that's what head bobsled coach Brian Shimer thought before he watched Park City's Steve Holcomb battle through a leg injury to win bronze with brakeman Steve Langton on one of the world's most technical tracks.
"A bronze may seem like a step down from what we were expecting, obviously, but with the challenges we had … it's a great, great ending for it," said an emotional Shimer. "I didn't think it was going to be a possibility if there were any setbacks. And then it happened on the second heat. I thought, to be honest, there was no way we were going to be able to give up anything at the start and stay in the medals here. … These guys dug down deep. It was a total team effort."
It was a moment heavily anticipated by everyone in the program but most acutely by the athletes. As Holcomb's final run approached, the other drivers and push athletes, technicians and coaches made their way to the finish area so they could watch him make history.
"Who better to win a medal than Holcomb, a guy that's elevated the entire program from Vancouver over the past four years?" said pilot of USA 3 Nick Cunningham, who teamed up with Dallas Robinson to finish 13th. "This year he's had a great, great season. He's a guy who's been a mentor to me, a guy who's always been there. … To have him go out there and win, it's huge. It elevates everybody. It motivates us."
Cunningham was among the first to congratulate Holcomb and Langton as they took over the lead with two sleds to go to ensure themselves a medal. The gold medalist was Russian legend Alexander Zubkov, who came out of retirement to compete at these games because they were in his country. The 39-year-old hadn't won a two-man competition in 25 tries. But Zubkov has the advantage of nearly 10 times the runs on the Sanki track, and it showed as he continually built a lead, finishing in 3:45.39.
The silver medal went to Beat Hefti and Alex Baumann, who finished in 3:46.05. Holcomb and Langton earned bronze by the narrowest of margins, edging Russia's second sled by three-hundredths of a second. USA 2 driver Cory Butner and his brakeman, Chris Fogt, Alpine, finished 12th after a costly mistake in the second run dropped them from third to 11th place.
"It's overwhelming," Holcomb said of ending America's 62-year Olympic medal drought — for the second time. In 2010, he won the first Olympic gold medal in four-man bobsled in 62 years. "This is my second 62-year drought, which is awesome. If anybody else has a 62-year drought they need to break, let me know. I'll try to help you out."
For Langton, it was his first Olympic medal.
"To be a part of history, I mean, that's incredible," said Langton, 30. "To be completely honest, coming into this, I didn't even think about this. I just focused on the goal at hand and that was to walk away with a medal. In retrospect, it's a pretty amazing thing that Holcomb and I were able to do that. It's a medal for us, but also everyone who supported us and helped us get to this point."
Shimer said they tried to keep Holcomb's injury a secret so other drivers "wouldn't smell blood in the water."
But word got out, likely because Holcomb had a bit of a limp. He received various medical treatments throughout the night and Monday, and they came up with a plan to accommodate his strained calf.
"Just kind of had a little game plan to come out tonight and kind of run next to the sled and let my horse here take over," Holcomb said putting his hand on Langton's shoulder. "He did a fantastic job. After the first run, I realized I could push a little harder than I expected. Going into the last heat, sitting in third place, you've got to give it everything you've got."
Holcomb said there was discussion about how to deal with his injury but not any real consideration about pulling out of the race.
"A little bit, but this is four years to get to this point, I'm not going to let a little calf booboo stop me," he said.
The former alpine ski racer and Park City High football player said it's driving bobsleds that has made him tougher.
"I'm not kidding when I say this, but your pain tolerance goes way up throughout the season," he said. "It's a very violent sport and the sleds are not comfortable. … When you're sitting in third place, you can deal with a lot more pain than you think you can."
Langton said he never had any doubt that Holcomb would be ready to roll Monday night. After all, this is the man who was losing his sight while he was ascending the world rankings. The same man who overcame depression caused by his deteriorating vision to win the gold medal in Vancouver.
"He's a gamer and I really tried not to think about that last night," he said. "I knew when his name was called, he'd be ready to go."
Langton said he knew he had to do more just to maintain their third-place position.
"Mentally, I think I tried to push a tiny bit harder," he said. "Not that I didn't try to push 100 percent yesterday. But I knew I would have to give every ounce of anything I had, just to compensate for his little injury."
Those around him said he isn't just one of the world's best drivers, he's also a generous teacher and mentor, which makes the U.S. program stronger — top to bottom.
"He just gets it," Cunningham said with a smile. "To have the world's best at my disposal every day, to see how he trains, to hear him talk about the track, to figure out sled setups, it's helped Cory and I get to this level. I don't know where Cory and I would be without him. That's why we are so good. He has definitely put USA bobsled on the map."
Twitter: adonsports
EMAIL: [email protected]