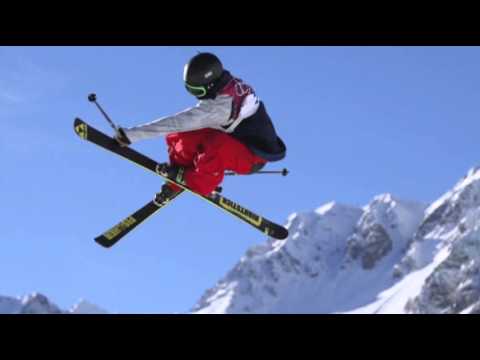 View 28 Items
Associated Press

I hope I made my father proud. He's been supporting me from day one, through all the injuries I've had, which I know scares parents a lot. And he's always supported me and never said stop, and I wish he was here. I hope he's looking down on me and smiling. I hope I made him proud. I did it for him.

—Park City's Joss Christensen
ROSA KHUTOR, Russia — With the Olympics a real possibility for slopestyle skiers, JD Christensen asked one thing of his son last August — keep skiing.
So Joss Christensen committed to do his best and left his father in a Salt Lake hospital to train in New Zealand. Just a few days after that conversation, his father was gone.
Six months later in the Krasnaya Polyana mountains of Russia, the 22-year-old Park City skier delivered on that promise in a way few believed was possible.
"I hope I made my father proud," said Christensen after winning with a near perfect run that earned 95.80 points. "He's been supporting me from day one, through all the injuries I've had, which I know scares parents a lot. And he's always supported me and never said stop, and I wish he was here. I hope he's looking down on me and smiling. I hope I made him proud. I did it for him."
The last man named to the U.S. slopestyle ski team by way of a coach's discretionary pick led his teammates — Gus Kenworthy and Nick Goepper — in a sweep of the sport's Olympic debut. It is only the third U.S. sweep in Winter Games history with the others coming in 2002 (halfpipe) and 1956 (men's figure skating).
After a thrilling competition in which skiers continually pushed the limits of what's been done in the sport, the medalists had their moment at the base of the run. They each held a flag as they waved to a raucous crowd of red, white and blue clad fans, who serenaded them with the national anthem and chants of "U-S-A!"
All of the competitors skied to — and sometimes past — their previous limits. Christensen said he chose to add a triple flip (in which he enters the trick skiing backward) to his run just two days ago.
"I learned that trick actually like two or three days ago in practice sessions," he said. "I knew once I learned it, I had to put it in my run if I wanted a chance to make it on the podium."
It turned out to be the difference-maker.
"Man, that was sick," Goepper said. "It was definitely a winning trick."
Christensen seemed the least likely of the four U.S. skiers to lead the historic sweep. Kenworthy, who earned silver with a score of 93.60, became the first skier to land a triple cork (inverted spin) in competition two weeks ago at X Games.
Goepper owns back-to-back X Games titles and landed a triple flip to best Kenworthy in that X Games final.
Bobby Brown, who finished ninth, owns a list of podiums in the sport's biggest contests and was the first to land a triple cork 1440 in competition.
Christensen, on the other hand, had never won a major competition until he won the Grand Prix on his home course in Park City two weeks before the start of the games. He had enough points from solid, but not outstanding, skiing to put him in the mix of skiers the coaches could take to the Sochi Winter Games.
"It meant a lot to me," he said. "I'm excited to even make it here. That was huge for me. I just wanted to keep the ball rolling. … It was definitely an honor to me, the team, and I just wanted to show everyone that they made a good choice. I just hoped to prove myself."
The way he did that was to go about his business in his understated way.
He went to work trying to make his run worthy of the Olympics. His competition, however, was doing the same. All of the athletes did new tricks, more than a half dozen throwing triple flips when just two weeks ago there were only two.
"I think there was a lot of other guys that could do triples," said 19-year-old Goepper. "They were just waiting to put them down until now. … Everyone waited to bring out the big guns in the Olympics." The athletes said the Olympic reality has created tension in a normally laid-back sport.
'It was incredible," said Goepper of competing in the Olympics. "It was crazy stressful. I'd never really fallen on a run before. I fell on my first run in qualifiers, and it was like the most stressful 20 minutes of my life."
Brown, Kenworthy and Goepper all fell on their first runs, but Christensen was nearly perfect. He landed a triple flip that spins off axis and requires him to go into the jump skiing backward.
Thursday morning, Christensen got a good-luck call from Sage Kotsenburg, who won a gold medal in the debut of slopestyle snowboarding on Saturday. Like Christensen, he was an underdog to even be on the podium.
"I just wanted to have as much fun as I could," he said. "I really wanted to put my best skiing down. I've been really focused; I really wanted to make the finals."
Once he did that, he started seeing the podium as a real possibility.
"I didn't expect to make it to the top," he said. "It's just been more than awesome." Christensen won the qualifying round and said he'd only ever done that once before in his career. Earning what turned out to be the winning score in his first run brought him some peace that he said he needed.
"I was definitely kind of scared," he said of watching the other competitors lay down pretty runs with triples in them. "I get pretty nervous dropping in last because there is no one up there." Christensen was named to the team so close to the start of the games, his mom almost didn't make it. A travel agent, Deborah Christensen immediately acquired a visa, but it took the kindness of some friends, who helped her with a plane ticket, and a last-minute cancellation in a hotel just down the road from her son, to get her to the rowdy Extreme Park Thursday.
"It meant so much," Christensen said of having his mom in the audience. "My parents love watching me ski. They've been my biggest supporters. My mom is always on her computer checking results. My mom really wanted to be here so I'm glad she was able to make it. I would have been sad if this happened and she wasn't here."
Twitter: adonsports EMAIL: adonaldson@deseretnews.com