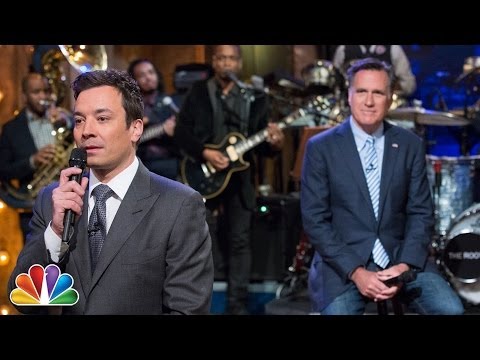 View 17 Items
Late Night with Jimmy Fallon

Former Republican presidential candidate Mitt Romney appears to be back in demand.
Just a day after the political documentary "Mitt" premiered on Netflix and he visited the Today show to discuss Sochi's Olympic security, Romney also appeared on "Late Night with Jimmy Fallon" to slow jam the news.
23
comments on this story
During the segment, Romney discussed things like President Barack Obama's upcoming State of the Union address, the health care law's flawed rollout and the documentary. He also shot down the possibility of a third run for the presidency, saying, "Jimmy, I'm not running again. There are a lot of great candidates for 2016, and I'll be supporting the Republican nominee 100 percent."
"Don't you mean 47 percent?" Fallon joked.
"That's a low blow, but it's pretty funny," Romney answered.
Romney also made an appearance on Zach Braff's Twitter feed Friday, as Braff and Romney headed to Utah.
Mitt Romney just walked by me at JFK after I randomly tweeted him. Let's try this again: @PaulMcCartney

— Zach Braff (@zachbraff) January 24, 2014
I feel like the odds of me and @MittRomney being on the same flight to Salt Lake City are good. I shall report back.

— Zach Braff (@zachbraff) January 24, 2014
Braff's tweets about Romney landed him a tweet back, as well as a picture with the former Massachusetts governor, complete with a "Hunger Games" reference.
.@zachbraff may the odds be ever in your favor. pic.twitter.com/7YzQwIeHaA

— Mitt Romney (@MittRomney) January 25, 2014
LIFE LESSON: our politics are quite different, but @MittRomney and I are having the best conversation ever. Very cool dude.

— Zach Braff (@zachbraff) January 25, 2014