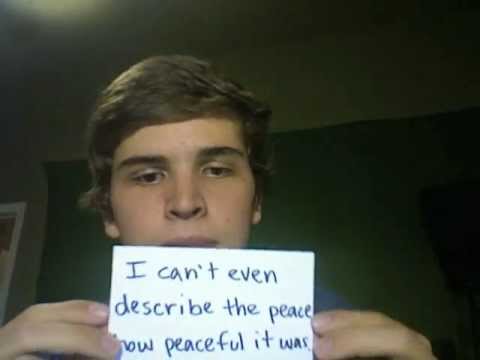 View 2 Items
YouTube

AUSTIN, Texas — Ben Breedlove died three times in December 2011. The last time — on Christmas Day — he did not wake up.
The 18-year-old could have been another name on an obituary page — a tragedy, yes, that his family had to bury someone so young because of a heart condition. But Ben left a legacy — "This is My Story," a YouTube video in two parts that has had a combined 13 million views.
People in 30 countries have watched Ben hold up a series of white index cards with black letters that explain his story from the time he saw a bright light above him at age 4 to his experience at 18 when he went to heaven and didn't want to leave.
Now, his sister, Ally Breedlove, 21, has written about her family's experience and Ben's certainty that heaven exists in the new book "When Will the Heaven Begin? This is Ben Breedlove's Story."
The book is as much about Ben's death as it is about his life and the family that loved him.
The life of Ben
Ben Breedlove came into this world Aug. 8, 1993 — 19 months after Ally was born, and six years before Jake would complete Deanne and Shawn Breedlove's family.
Baby Ben had an "irresistible smile," Ally Breedlove writes.
He looked normal, but at 3 months, he was diagnosed with a heart murmur. By a year old, the murmur was gone, but his pediatrician didn't like the sound of Ben's heart and sent him to a specialist.
At 13 months, he was diagnosed with hypertrophic cardiomyopathy, or HCM. The disease causes the heart muscle to thicken, making it hard for the heart to pump blood. It affects 1 in 500 people and can cause sudden death. Athletes have died on the basketball court or field because of it.
The Breedloves were told there was no cure; there was nothing to be done to fix it. "It was too much to take in," Deanne Breedlove says.
Shawn remembers being told by the doctor that Ben would be "lucky to live beyond his early teens." It was something Shawn filed away. Even today, Deanne doesn't remember hearing those words. She couldn't think that way. It was hard to look at a child who on the outside appeared so normal and think about him having something that could kill him.
''We were not going to start weeping and crying just because some doctor had spoken," says Shawn Breedlove, a real estate land developer. At that moment the family made a decision: They would not worry about something that hasn't happened and instead they decided to be thankful for every moment they have with Ben.
''If we (thought) about too many days in the future," Deanne Breedlove says, "it became overwhelming."
They tried to lessen the effects with medication, diet modifications and limiting some activities. Ben also was later diagnosed with long QT syndrome, another heart condition, which can cause seizures, fainting and sudden death.
Ben would not be able to play all the sports he wanted, but he did learn to wakeboard and could do that as long as the water wasn't too cold for his heart. His parents gave him restrictions, but they also wanted him to live his life to its fullest.
The book recounts that when Ben was in eighth grade, he asked Deanne if he was going to die. She responded that everyone is going to die, but only God knows when: "We don't need to live our lives like they're death sentences; we need to enjoy our lives. I think you do a good job of that."
Still, Ben's heart condition and the threat of it "bumping," or what they called arrhythmia, was always there. Ally Breedlove writes: "Ben's condition didn't go away simply because the family went on vacation. The HCM was always there, coloring every aspect of their lives. It was not a 'once-in-a-while' situation; it was every day, month after month, year after year."
Ben's failing heart
For most of Ben's early childhood he was able to go to school, pull pranks with his neighborhood friends and go on family vacations. Occasionally, life-and-death situations reminded the family of the seriousness of Ben's condition. When he was 4, Ben had a 45-minute seizure and had Deanne not driven him to their nearest fire station, he probably would have died. That episode was when Ben saw a white light above him that no one else could see.
Just before that episode, Ben had asked his mom, "How do we know if we get to go to heaven?" Right there in the car, he prayed to God to tell him that he wanted to go to heaven one day, Ally Breedlove recalls in the book. It would be one of many conversations Ben had with God.
Six-year-old Ben became one of the youngest people to have a heart ablation to destroy some of the heart tissue causing the irregular heartbeat. He survived that, but the two-hour procedure lasted seven hours and he had a high fever afterward.
The ablation seemed to work for a while. But as had been predicted, Ben's heart began to fail when he was 14. He needed a pacemaker. After much convincing, Ben had one placed in his chest in May 2009. He felt better and was wakeboarding again.
Two years later, Ben went into cardiac arrest on the first day of summer vacation. He had undergone surgery to remove an abscess on his tonsil. It seemed so simple compared with his previous heart surgeries, but his family realized, for Ben, there was no such thing as a simple surgery.
Ben recovered and made the most of that summer. He and Jake went on a cruise to Alaska with their grandfather. He and his friends played a memorable prank on the neighborhood by resting what looked like a dead body in the middle of the road. He got caught and had to apologize. He shot YouTube videos on relationship advice, which earned him a loyal following.
Ben's heart continued to bump his senior year. The medicines weren't working. His family knew that a heart transplant would be the next step, but they wanted to wait until after Christmas to explore that possibility. Shawn Breedlove says they weren't even sure if he was sick enough to qualify for one based on the heart transplant industry's standards.
Close to heaven
Ben was noticeably weaker by Thanksgiving of 2011. He was missing a lot of school and was trying to keep up. His parents were no longer planning for college the next year.
On Dec. 6, he insisted on going to school to review for a test. He fainted, and his heart stopped. That's when Ben says he went to the waiting room of heaven. He knew he was dying. He found himself in an all-white room with no walls. His favorite rapper, Kid Cudi, was with him. They were wearing suits, and Ben says he looked at himself in the mirror and thought, "D***, we look GOOD!"
In his-two part video uploaded on Dec. 18, "This is My Story," he silently holds up a series of cards with his story written on them as "Mad World" by Gary Jules plays in the background. Of the Dec. 6 experience, he wrote that he had the same feeling he had when he was 4 and he saw the bright light. "I couldn't stop smiling. I then looked at myself in the mirror. I was proud of MYSELF, of my entire life, everything I have done. It was the BEST feeling."
He thought of the Kid Cudi song "Mr. Rager" and the lyrics, "When will the fantasy END ... when will the heaven BEGIN?" He says, Kid Cudi told him, "Go now." And he woke up.
But in his video, Ben holds up his cards: "I didn't want to leave that place. I wish I NEVER woke up."
Ben had died, gone to heaven and been revived. His family was relieved. He was not.
On their boat dock a few days after he died, Ben talked to Ally about wanting to go back to that peaceful place. The boat dock was his most peaceful place on Earth where he could talk to God. He told Ally, "Coming out here in the middle of the night when it's quiet and the water is so still ... it's the closest I can get to that peaceful feeling," Ally Breedlove writes in the book.
He talked about the fender-bender he had been in just days after he died and the irate driver. "'Why did I have to come back to this?'" Ben told Ally, she says.
On that dock, he told Ally that he thought God let him see the white room so he wouldn't be afraid of dying, "And so I would know that heaven is worth it," Ally writes.
''He was frustrated because he felt like he had lived his life fully," she says, "but after he finally tasted the peace of heaven, he had to return to his suffering in the world."
Ben died again Dec. 17 while at a friend's ranch 2 1/2 hours outside of Austin. This time his family was with him and watched him go down, but a bystander did CPR and Ben revived. He went to the nearest hospital but refused to stay there. The family drove home that night.
The next day was Sunday and instead of going to church, the family had church in their pajamas in the living room. They asked Ben about his visit to heaven and they prayed for his heart. Ben prayed: "God, I pray that my family wouldn't be sad or scared for me anymore, because I'm not sad or scared. I pray that they would have the same peace I have," Ally Breedlove writes. "And I'm okay with whatever God decides."
Later, Shawn Breedlove says he told Ben, "'You need to record the events in your life. They are significant to you.' Then Ben went back to his room. He would pop back up and ask us questions."
They now know that Ben was working on the video that would go viral a week later, the day he died.
Christmas
The day started out so happy, Deanne Breedlove says. They were together and Ben was in a good mood. But at around 4:45 p.m. Ben collapsed outside their home. He looked like he had the last time he had died. They started CPR and called an ambulance. Seconds turned to minutes. This time Ben wasn't waking up. He was taken to the hospital. His parents were with him as doctors worked on him, but after a while, a doctor asked them what they wanted to do. Ben was unresponsive.
''In our hearts we knew he had already passed," Deanne says.
They gave their approval to stop intervention. And they stayed in the room with him and hugged him.
''We wanted to be there with Ben, but he wasn't there," Shawn says.
''He was already being comforted by Jesus," Deanne says.
They found it difficult to leave, but then they began the unreal walk to the room where Ally and Jake were waiting.
Ally, who had been thinking since Thanksgiving that Ben was going to die soon, didn't want to believe it had happened until her parents told her Ben was in heaven.
''His whole life, I remember him telling me, 'Ally, you know I'm going to die young,'" she says. "I would always say, 'Don't say that.'"
The family had to go home. "It was the worst thing," Shawn Breedlove says. "You never leave your children at the hospital."
Life after Ben
No one really slept that night, but news of Ben's death began to spread among his friends and was all over Facebook. Ally's boyfriend came over. He had been on Facebook, seen the news and also a link to the video that Ben had made the week before. He shared the video with Ally that night.
The family does not know who found the video or how it began to go viral. Ben had published the two parts the day he made them, but instead of putting it on any of his usual YouTube video channels he put it on a new channel TotalRandomness512.
That next morning, Shawn Breedlove says he realized, "We have to wake up to a new world."
''It was very sad," Deanne Breedlove says.
''Reality sets in and you have this paralyzed feeling," Shawn Breedlove says. "Oh, that really did happen. Ben's not here."
By 9 a.m. the next morning people were starting to gather at the Breedloves' house. They mentioned the videos to Deanne and Shawn. The Breedloves didn't know what they were talking about. Later that morning, they sat down and watched it. Where other people saw the joy in his face, they saw the hint of sadness that was there. Yet they see this as the way Ben let them know that he was OK and they should be, too. "My son was alive," Shawn Breedlove says of watching the video. "He was telling us about his experience. He was reminding us that he's OK."
They believe there is a reason the video did not get discovered before Ben died. "Had we seen the video, we would have thought he had been depressed," Deanne says. "... We would have thought we should get him some help. I believe God kept it private so we didn't interfere."
Within 24 hours, the news media had descended on the family and Deanne and Shawn let them in. They knew others were grieving, too.
''None of us really wanted to do anything but be with each other, but we knew Ben did a great job of sending a message in the video," Shawn Breedlove says. They felt responsible to tell the story as Ben told it, he says.
People, including celebrities, began posting and tweeting messages of love for Ben. Some wrote that Ben Breedlove changed their lives. Some made videos in the same vein as Ben's.
More than 1,500 people attended Ben's funeral and 58,000 watched it through live streaming.
All the love that was shown for Ben and the family during the funeral and the days before and after "was a gift to us," Deanne Breedlove says. "People were so kind."
She remembers sitting at the funeral and being so proud of her son and of Ally, who spoke, but also so sad. "It's a very sweet thing to see people honor your child, but the service was a goodbye to a child, that was really hard."
Writing Ben's life
Almost immediately the Breedloves were approached about turning Ben's story into a book. Ally says she didn't know whom she could trust. Instead, she went back to college at Texas Christian University. She says she had unrealistic expectations of herself, and thought she could continue to make the same grades as she had. "I was stressed out," she says. "I felt like I was in a fog most of the time."
She left school and thought of writing the book as an opportunity for an internship. It took about a year to finish.
She decided she didn't want to write it from a first-person perspective because there were events she didn't witness.
''It was very therapeutic," she says. "I believe that life is a gift, and every day is a new opportunity to do something with it. That's what Ben did. Every day he woke up and lived life to the fullest."
The family wanted to stay close to what Ben would have wanted. "We got to tell the story exactly how we wanted to tell it," Deanne Breedlove says.
And while Ally was doing her research, the family got to know him even better through sharing their memories and from friends' stories.
''Everything I learned made me appreciate him more," Deanne Breedlove says.
The family attended the Westlake High School graduation that spring, and the school graduated Ben posthumously.
There are constant reminders of the loss. When his friends come home from college, it reminds Deanne that he should have been coming home, too.
The lead-up to the next Christmas was a hard time, but on the actual day, they were surrounded by family.
Ben's friends still come to visit, and sometimes they ask if they can have something from Ben's room. Eventually, the Breedloves decided to give Jake that bigger room; after all, if Ben had gone to college like his friends, Jake would have gotten it.
Ben's experience and the video that he left for them were a big help, especially for Jake, who told his family in the days after Ben's death: "I'm almost happier than I've ever been ... because I know that Ben is happier than he's ever been before," Ally Breedlove writes in the book.
''Every time I feel like I'm missing Ben," she says, "I picture him in heaven rolling his eyes at us. The last thing he wants is for us to be sad about him, and I know he's more alive now than he's ever been."
Ben Breedlove left a family, but he also left the world a question: Do you believe in angels or God?
His answer: I do.
''When Will the Heaven Begin?: This is Ben Breedlove's Story"
Ally Breedlove with Ken Abraham
$15, New American Library
Nicole Villalpando writes for the Austin American-Statesman. E-mail: nvillalpando(at)statesman.com.