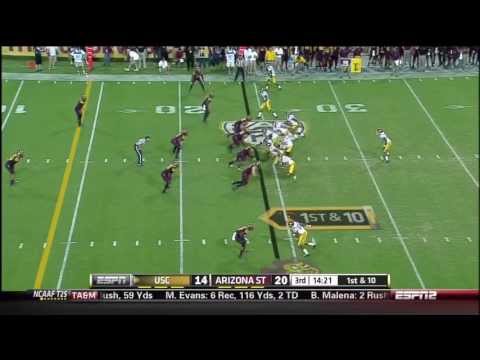 View 2 Items

USC finally did the inevitable in the sleepy early-Sunday hours, canning football coach Lane Kiffin, who was pretty much a dead man walking after losing to Washington State three weekends earlier.
The autopsies will suggest many different reasons why the whole thing didn't work, and Kiffin apologists (he and his next of kin might be the only ones remaining) will point to the Trojans' scholarship sanctions as a primary culprit. Don't believe it.
In the last generation, there are two programs in the league that got caned severely by the conference or NCAA: Washington and USC.
Today, the Trojans' position in recovery from the sanctions exactly parallels where the Huskies were in the season of 1995. Washington had been through two seasons of bowl ineligibility (1993-94), and it had suffered a loss of 10 initial scholarships (from 25 to 15) in the recruiting classes of 1994 and 1995. (USC has another one of those to serve next February.)
How did Washington do in that '95 season? It finished in a tie for the league title with, coincidentally, USC, losing out on a Rose Bowl berth because of a tiebreaking formula. USC had to come from a 21-0 fourth-quarter deficit to a 21-all tie with the Huskies.
In other words, Washington managed pretty well. It had depth problems in later years, but nothing rivaling USC's systemic collapse.
Kiffin has alluded to depth problems hurting the defense in a world of hurry-up offense. Which would be a viable argument if it weren't for the fact it is the Trojans' offense, coached by him, that has been so unproductive.
WHAT WE LEARNED
Pat Haden: King of the midseason hook. The USC athletic director cashiered basketball coach Kevin O'Neill on the first weekend of Pac-12 play in January, and now Kiffin. Not that this one was undeserved, just that it is odd, in that Haden is an old-school guy, thoughtful and prone to being conservative.
Some things just don't add up. Most reasonable minds would say that the gap has closed between Stanford and Washington State from a year ago (even if it is still considerable). Yet the Cougars lost by a touchdown in Palo Alto in 2012, and got blistered 55-17 Saturday night. Can Kevin Hogan, the Stanford quarterback, make that much difference?
In the desert, USC, which hadn't yet allowed an offense 300 yards, gave up 612 to Arizona State, leaving ASU coach Todd Graham to say, "For the first time since I've been here, tempo destroyed the other team."
Washington is right on schedule. Unfortunately, so are its next three opponents. If the Huskies were going to make this a big season, they had to start 4-0. Done. Now they get Stanford and Oregon teams that have exceeded preseason billing, and an ASU squad that found itself against USC.
The league record book may need updating. Oregon's Pac-12 mark for points is 645, and it already has 239. If it wins the Pac-12 North and plays 14 games, that means the Ducks need only average 40.6 the rest of the way.
Meanwhile, Oregon State's Sean Mannion has 21 touchdown passes (USC's Matt Barkley threw 39 in 2011) and Brandin Cooks has caught nine (Washington's Mario Bailey had 18 in the 1991 championship year).
This week UCLA meets Utah in Salt Lake City on Thursday night, while Washington's visit to Stanford is the headliner Saturday. Arizona State, which has returned to the polls, meets Notre Dame in Arlington, Texas.
———
©2013 The Seattle Times
Visit The Seattle Times at www.seattletimes.com
Distributed by MCT Information Services
_____
Topics: g000362661,g000066164,g000065594,g000065601