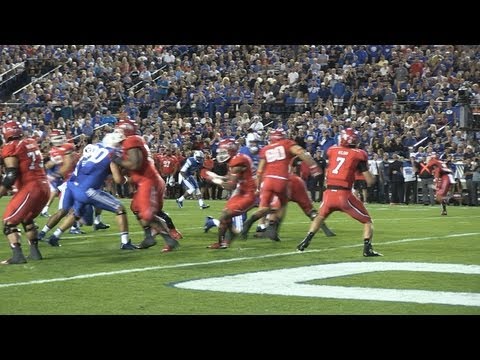 View 2 Items

Q: As a true sophomore, how would you evaluate your transition to the college game?
A: "I definitely feel a lot more confident, just having the whole experience last year and then having this whole offseason to really work on everything. I just feel a lot more confident."
Q: How much better can you get?
A: "I think every week I can get better. I've just got to make sure I keep on taking care of the football and make sure I'm still making plays with the throwing and running game."
Q: What kind of impact has co-offensive coordinator and quarterbacks coach Brian Johnson had on you?
A: "He's helped me a lot. He's always been there. He's helped teach me what I need to correct and what I'm doing good at. He's definitely been a good mentor."
Q: How about new co-offensive coordinator Dennis Erickson?
A: "He has definitely just brought a whole new confidence in me. He's really just helped me go through reads and know where I should go with the football, and he's definitely just been a great person to go and talk to, too, if I need somebody."
Q: The UCLA game next week will be especially emotional for you, considering the death of your best friend Nick Pasquale (who was a wide receiver for the Bruins). What are your thoughts?
A:"It's definitely going to be a big game. I met a lot of the players at Nick's service, so it's definitely going to be an exciting game and I'm really happy I get to represent Nick, too."