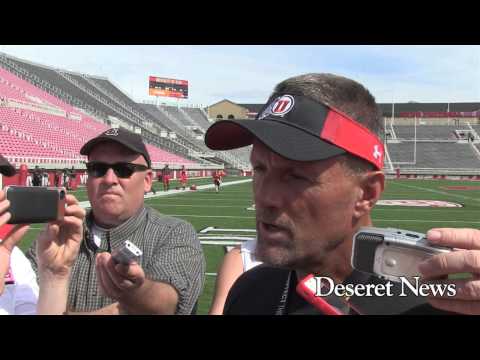 View 2 Items

SALT LAKE CITY — As a coach who earned his stripes around defense, Utah's Kyle Whittingham has a direct, no-nonsense bearing even in the best of times. These days, that's accompanied by an unmistakable hunger.
Ask him how much his team's dip the past two seasons can be attributed to joining the Pac-12 Conference, and the head Ute doesn't dodge.
"Most all of it," he says. "If you're asking, would we have gone 5-7 (Utah's 2012 record) in the Mountain West Conference, I don't see that."
So the offseason was a time of soul-searching?
"A little bit," Whittingham concedes. "Yeah, a lot of it."
This year, Whittingham's reputation is at stake, and so is Utah's. The glory year of 2008 - undefeated and No. 2 in the country-has faded, as has Utah's 21-3 record in league games immediately before hooking up with the Pac-12 in 2011.
Since then, Utah is 7-11 in conference, and as Whittingham's new offensive coordinator, Dennis Erickson points out, "This is the first year we've seen the worst of it." The Utes have had the cushion of neither Oregon nor Stanford on the schedule, two teams that went a combined 32-4 in league while missing Utah.
In two years, Whittingham learned that defense and special teams carry you only so far in the Pac-12. The Utes were last and 11th, respectively, in total offense, so he added Erickson and his wealth of offensive savvy.
The 66-year-old Erickson sees the urgency everyone else is sensing in Whittingham.
"Without a question," Erickson says. "That's not how they like it around here, being 5-7. They've all got chips on their shoulders. I can see the fire in their eyes, Kyle in particular."
When Whittingham went about autopsying 2012, he settled on three deficiencies: A passing game whose average yardage of 190.7 was worst in the league; a red-zone defense that allowed 31 touchdowns in 43 trips; and a scarcity of takeaways, including only eight interceptions.
In two seasons in the mercurial Pac-12, Utah's offensive torpor has been persistent. So on came Erickson, who was fired after the 2011 season at Arizona State.
"It's really been fun," Erickson said. "I'll be up in the press box for the first time since 1981."
Back then, he was an assistant to Jack Elway at San Jose State. Now, he'll call plays while co-coordinator Brian Johnson works with the quarterbacks, and a third coach, Aaron Roderick, has the title of passing-game coordinator.
"I think we've got a chance to be a lot better on offense than we were a year ago," said Erickson.
Sophomore quarterback Travis Wilson reminds Erickson of a slightly shorter Brock Osweiler, the ex-Arizona State standout, and Utah just voted Wilson a co-captain. Erickson sees the offensive front as "way better than we were a year ago. We had guys start that aren't even in the top seven or eight."
Utah will feature multiple offensive looks, including a lot of double tight ends, because Jake Murphy and Westlee Tonga are high-quality talents.
"We've got to be able to run the ball; that's our strength," says Erickson. "Not put it on the quarterback to win games."
Defense, No. 3 in 2011 and fifth last year, hasn't been the problem and shouldn't be, led by end Trevor Reilly, tackle Tenny Palepoi, linebacker Brian Blechen and safety Eric Rowe. But Blechen has battled knee tendinitis in camp and Whittingham hasn't sounded optimistic about his immediate outlook.
The Utes sustained another blow when JC transfer safety Tevin Carter didn't make grades, but they've gotten an expected boost at that spot from senior Michael Walker.
Whittingham talks about how he received texts from players over the 2012 holidays, chastened by the program's first season without a bowl game since 2002.
"Going 5-7 and then having most people pick us second-to-last in the (Pac-12) South, it's just added motivation," says Murphy. "But not going to a bowl game was motivation enough.
"It's something we want to get back to, our old reputation. We don't want to be the new guys in the conference who are still adjusting."