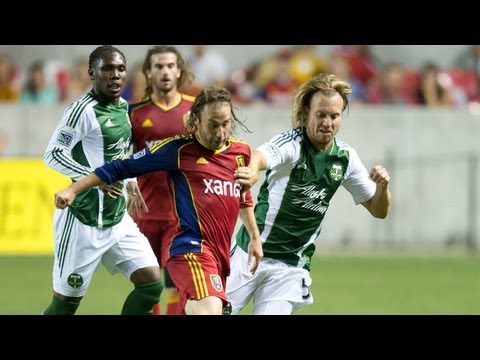 View 29 Items

SANDY — If he could have been around on Wednesday in Utah, the late Lamar Hunt would have smiled.
A sparkling stadium, a boisterous crowd and quality competition were everything he could have asked. Well, not everything. He could also have wished a sellout, though a respectable 14,742 showed up at Rio Tinto Stadium. It still set an attendance record for U.S. Open Cup semifinal games.
Hunt would have asked for financial success, too. Even that finally seemed within reach, 46 years after the late sports tycoon planted pro soccer in America.
These days, Major League Soccer is in major league expansion mode. Soccer was cited in a 2012 ESPN study as the second-favorite sport among Americans ages 12-24. The league recently announced plans to grow to 24 or 26 teams.
Already a 20th team — and second in New York — is on deck. Atlanta, Cleveland, Las Vegas, Indianapolis, Detroit, Miami, Minneapolis, Oklahoma City, Orlando, Ottawa, Phoenix, San Antonio, Sacramento and St. Louis have expressed interest.
What this expansion has to do with Real Salt Lake's 2-1 win over Portland was this: It's the Lamar Hunt U.S. Open Cup, named after the high-minded sports innovator from Dallas via Arkansas. He was one who saw this coming. He believed he could plunk a foreign sport in the American pitch and make it stick. In the 1960s, the idea made people laugh. In 2005, when Real Salt Lake joined MLS, Hunt was keeping the league afloat with his millions. Now it has a wait list.
Hunt, who died in 2006, expected soccer to prosper. Or at least he dreamed it. He helped start the American Football League (American football, not soccer). In 1967, he was convinced soccer could find its way into America's heart. So he launched the North American Soccer League, which lasted in various incarnations until 1984. In 1996, he became a cornerstone in Major League Soccer.
The fact the NASL expired seemingly had no effect on Hunt's optimism.
The man had the lasting power of Churchill.
"Maybe these (kinds of) guys don't sweat the details," said Trey Fitz-Gerald, Real's communications director. "They get the big picture."
In that case, Hunt would have loved the feel of Wednesday's match. He died at a time when MLS's future was hazier than today.
Now it's in growth mode again.
For a guy who (up)started the American Football League and named the Super Bowl, you might expect a confirmed soccer hater. Not so. He was a charter investor in MLS. According to Fitz-Gerald, who became acquainted with Hunt when he was working public relations for the league in the 1990s, "he didn't have any enemies."
That doesn't mean he didn't have any plans. Fitz-Gerald said within the first 24 hours of being hired in 1997, he got a 7-page fax of story ideas, pitches and promotions from Hunt.
Hunt was a boots-on-the-ground kind of guy. Fitz-Gerald said he saw Hunt serving lemonade to stadium workers, dishing up barbecued ribs to employees, and picking up glass and cigarette butts in his stadium parking lot.
"He was very low key; a guy everyone loved to talk to," Fitz-Gerald said.
Because of that, and the dollars Hunt contributed over the decades, RSL is around to play D.C. United in the Open Cup title match Oct. 1. Wednesday's game was hard-nosed, animated and colorful. Just as important, it was its own event, more than a pretend European soccer event.
Alvaro Saborio, Kyle Beckerman, Nick Rimando and Tony Beltran were back home together, on the same team, after serving in Gold Cup play for most of a month. It was a regular hometown reunion, with hometown players — just the way Hunt would have enjoyed it.
Even so, it was new territory for RSL. Though it had played 15 previous Open Cup games, it had never advanced beyond the quarterfinals.
But persistence finally paid off, just as it did for Hunt. Real scored in the seventh minute on a smooth cross by Beckerman and an even smoother header by Saborio. Joao Plata's goal in the 78th minute sealed the deal.
As the crowd happily milled about, enjoying the moment, singing the fight song, it was hard not to imagine that somewhere the tournament's ever-optimistic namesake wasn't singing right along.
EMAIL: rock@deseretnews.com
Twitter: therockmonster
Blog: Rockmonster Unplugged