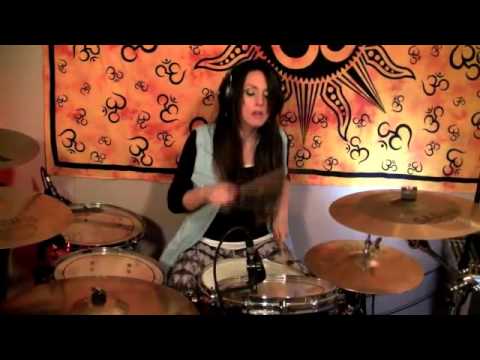 View 2 Items

Rock 'n' roll aficionados have an ongoing debate over who is the greatest drummer to ever anchor a band. Their argument, of course, will never be settled — but here's a new wrinkle: Who is rock's top female drummer?
Add Latter-day Saint musician Valeria Sepulveda to the discussion. A lifelong member of The Church of Jesus Christ of Latter-day Saints, Sepulveda recently claimed top honors in the Over 18 division of the 2013 "Hit Like a Girl" contest sponsored by DrummerCafe.com. She hopes the prestigious award will mark another step in realizing her musical ambitions.
"It's given me a lot of exposure ... my dream is to be a full-time musician," she said.
Sepulveda, 25, was raised in Valparaiso, Chile. The church has long been an anchor in her life. Her father, Gonzalo Sepulveda, is a former Area Seventy and her mother, Adriana, is a devoted member who has served the church in a variety of callings.
The Sepulvedas did not intend to raise a drum-pounding daughter. Still, Sepulveda remembers always feeling mesmerized by the drum beat that brings a rock or pop song together. As a child she would listen to the drum lines of a popular song and keep the beat with her fingers.
When she was 15 she discovered a drum set in the music room of her junior high school. She picked up a pair of sticks "and began to goof around." She immediately felt at home behind a set of drums. The music teacher recognized her interest and invited her to learn to play.
"My parents were very supportive and gave me a drum set of my own," she said. Sepulveda admits her first few months "didn't sound very good." But she kept practicing and was soon playing with high school bands, entering contests and performing at local music festivals.
She studied drum performance at the University of Valparaiso, graduating in 2011. She decided to move to the United States where there were more opportunities to develop her career. She learned English and began playing with several different bands, performing throughout the western United States. When she's not on the road, she enjoys spending time with relatives living along Utah's Wasatch Front.
Sepulveda has developed into a seasoned drummer over the past several years. She practices at least three hours per day and videos of her frenzied solos have become popular on YouTube. She is often called in for session work. Still she admits to occasionally battling nerves when in front of a live audience.
"I sometimes get butterflies — but it's a good feeling."
She said the rock music culture can be a challenge for a devout Latter-day Saint. "But I've been lucky to be surrounded by people who respect and share my same values."