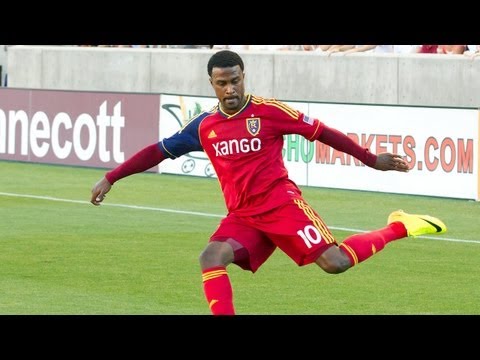 View 16 Items



SANDY — Physicality took center stage when Real Salt Lake dropped a 2-1 heartbreaker to Eastern Conference-leading Sporting Kansas City Saturday night at Rio Tinto Stadium.
The result slapped RSL with its first loss since May 11th and drew the ire of head coach Jason Kreis.
Kreis, though, wasn't angry at his team — his fury was aimed directly at the referee, who was officiating only his 16th MLS game.
"The level of consistency tonight was as low as I've ever seen from any referee in MLS," Kreis said. "To referee in a sold-out stadium and a first-place versus second-place matchup is the wrong game for someone who has [16] games of experience."
The game featured 27 fouls — along with a large number that likely should have been called — and seven yellow cards. RSL's Chris Wingert was sent off after receiving his second yellow card with his team clinging to a 1-0 lead in the 66th minute.
"I just watched the replay because I wanted to come in here with facts rather than just opinions," Kreis said. "It's a poor decision — an incredibly poor decision against us. Chris barely touches the player, who falls down. Then he's given his second yellow card."
Sporting Kansas City scored off of the ensuing free kick, though RSL did whiff on several chances to clear the ball as it bounced around the box before it found its way into the net.
Still, the momentum and the complexion of the game had changed, and the culmination was a game-winning goal that came in the 97th minute, even though the fourth official had shown that there would be only five minutes of stoppage time.
"We have to move on quickly and expect that, hopefully, in the majority of the games the referee will get his decisions right," Kreis said. "Hopefully referees will know that we shouldn't play seven minutes of extra time when he puts five on the board. Those are difficult things to keep track of, I guess."
Also of note is the vast amount of time Javier Morales spent on the ground clutching various parts of his leg.
Morales is no stranger to embellishing even the most minimal contact, but this game was different. Officially, he was fouled six times, but that number could have easily reached double digits. After the game Kreis was asked if he had considered sitting his star playmaker because of Kansas City's obvious intent to bully him throughout the match.
6
comments on this story
"No," Kreis answered quickly. "I think, again, that a more experienced referee would handle that situation differently. A more experienced referee controls that game in the first half."
Despite the difficulty — both physically and emotionally — of suffering such a loss, Real Salt Lake is set on looking forward instead of holding onto the negative feelings of Saturday night's result.
"I think we're going to talk to [the team] quickly. Make sure that they know we're not upset with them," Kreis said. "We're in a good spot, that doesn't change. We're still in a good spot and still want to keep improving every game."
Email: mpayne@desnews.com