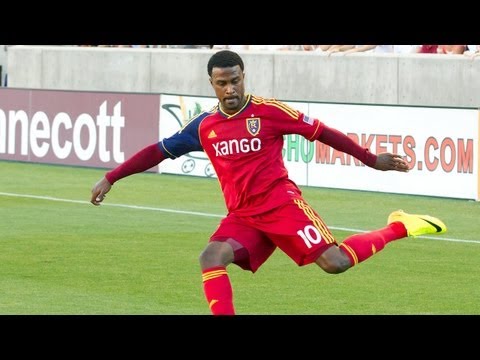 View 15 Items



We have to move on quickly. We had a lot of really good run, and they battled extremely hard. They put everything out there that they could.

—RSL coach Jason Kreis
SANDY — What looked like a certain draw between the league's top teams took a stunning turn when a last-second goal gave Sporting Kansas City a 2-1 victory over Real Salt Lake Saturday night at Rio Tinto Stadium.
With the score tied 1-1 and time winding down, Sporting KC's Ike Opara headed in the game-winner off a corner kick in the 97th minute. The final whistle sounded just after the ensuing kickoff and both Real Salt Lake and its suddenly silent fans quickly left the premises.
"We have to move on quickly. We had a lot of really good run, and they battled extremely hard," RSL coach Jason Kreis said about his team. "They put everything out there that they could."
Real Salt Lake and Sporting Kansas City may play only once during the MLS regular season, but the physicality and emotion shown on the field was evidence of a deeper rivalry.
It took less than 30 seconds for the first booking to occur — a yellow card after RSL's Chris Wingert threw a flying elbow into the head of Sporting KC's Kei Kamara — and things just snowballed from there.
Luis Gil drew a yellow card in the 37th minute, while Javier Morales got his in the 44th.
All told, the teams combined for 26 fouls and seven yellow cards — four for RSL and three for SKC.
"I think that was exactly what we expected and exactly what we prepared for and talked to the guys about," Kreis said. "It's just a situation where we need to try to keep focused and move on from decisions that are tough and move on from getting fouled a lot and maintain our focus on the game."
RSL finally got on the board in the 56th minute after Morales was fouled just inside of half field. Morales floated the free kick into the box, where the ball bounced through Sporting's 'keeper Jimmy Nielsen's hands and right to RSL's Robbie Findley, who leaned back and cracked a header into the back of the net.
Real Salt Lake's advantage didn't last long, though.
With Sporting KC attacking down the right side in the 66th minute, Wingert committed a foul and drew his second yellow card of the match. The ensuing cross led to a scrum in front of the goal and an equalizing goal by Soony Saad, who turned and gave the final touch after the ball bounced around in the crowded penalty area.
"I just watched the replay because I wanted to come in here with facts rather than just opinions," Kreis said. "It's a poor decision — and incredibly poor decision against us. Chris barely touches the player, who falls down. Then he's given his second yellow card."
Down to 10 players after Wingert's ejection, RSL continued to push forward and nearly took the lead when Olmes Garcia launched a rocket from just outside the penalty area that Nielsen cleared with a diving save.
Jeff Attinella, making his first start in goal for RSL, was shaky in the first half, both with his distribution and decision making. He rebounded, though, to make a diving stop of a net-bound rocket by Saad just after halftime before allowing the two late goals.
2
comments on this story
"I think he did good. I was really pleased with Jeff," Kreis said. "He looked calm, like he was ready for it."
Real Salt Lake and Sporting Kansas City entered the game atop the standings in their respective conferences. Despite the result, RSL remains in first place in the Western Conference standings with 37 points, three ahead of Portland.
SKC leads the Eastern Conference with 36 points.
Real Salt Lake was still missing four key starters — Kyle Beckerman, Nick Rimando, Alvaro Saborio and Tony Beltran — due to Gold Cup play.
RSL now takes to the road to play New York on Saturday at 5 p.m MT.
email: mpayne@desnews.com