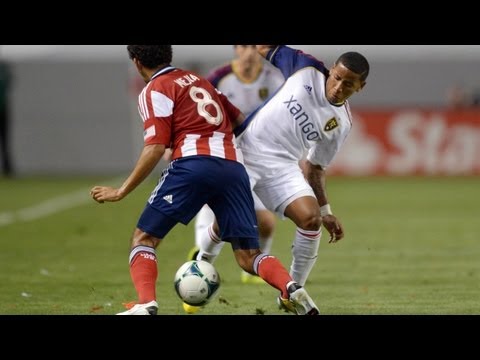 View 7 Items

I told the guys that this should be our time. It starts with what we did tonight, and we look to roll forward with positive momentum.

—Jason Kreis, RSL head coach
CARSON, Calif. — After spending the season responding to adversity, as head coach Jason Kreis said last week, Real Salt Lake exploited its latest opponent's problems to win.
Ned Grabavoy scored his first two goals of the season to lead RSL to a 4-1 rout of Chivas USA on Sunday night at the Home Depot Center.
Real (6-5-2) used its fourth victory in six games to take over second place in Major League Soccer's Western Conference and move within four points of first-place Dallas.
Kreis called the victory, "really, really massive," especially with RSL playing its next four games at home.
"I told the guys that this should be our time," Kreis said. "It starts with what we did tonight, and we look to roll forward with positive momentum.
"We need to get on a roll. We need to get things going."
Grabavoy could see improvment "after that lull, that first 15-to-20 minutes against the Galaxy," he said of a 2-0 loss to Los Angeles at Rio Tinto Stadium on April 27.
"Since then," Grabavoy said, "we've responded and we've played well the last month or so."
Kreis also anticipated Grabavoy emerging from his season-long scoring slump.
"Ned's been doing so much for us the beginning quarter of the season," he said. "When you think about the stats he'd had over the years, I always think he should have more goals.
"So we've been challenging him with that over the past week or two. I'm really, really pleased to see him get two goals."
Grabavoy scored his first on a left-footed shot from 20 yards in the fourth minute — the earliest RSL has scored this year. He earned his second on a 16-yard shot off a breakaway in the 91st minute.
Grabavoy's second goal not only culminated Real's biggest offensive output of the year. It reflected Chivas USA's season-long defensive problems.
In emphacizing a risky attacking style, Chivas USA (3-6-2) has allowed more goals than any other MLS team and conceded 11 in the past three games, all losses.
Part of that style includes unusual tactics. In the 30th minute, goalkeeper Dan Kennedy took a 22-yard free kick; it hit the base of Real's defensive wall.
"It's very interesting, for lack of a better word, some of the chances that they're taking with their over-aggressive style," Kreis said. "It opens up a lot of space behind them. They got punished for some of those decisions.
"There are seams and cracks in what they're doing. If you score your goals, it's going to mean three points, usually."
Off the field, Chivas USA has been besieged by reports of being sold and moved. "Keep Chivas USA in L.A.," demanded one homemade bilingual banner that had another message for current owner Jorge Vergara.
"Dueno de mi equipo pero no de mi pasion." In English, "the owner of my team doesn't own my passion."
Joao Plata extended RSL's lead to 2-0 in the 48th minute. Kyle Beckerman deflected an errant pass off his body; the ball fell to Plata, who beat two defenders on a breakaway that he ended by converting an 18-yard shot.
Comment on this story
Chivas USA narrowed the score to 2-1 on Jorge Villafana's goal in the 55th minute and almost tied the score two minutes later. But Jose Correa's low 7-yard line drive hit goalkeeper Nick Rimando's ankles.
Robbie Findley gave RSL a 3-1 lead in the 78th minute. Yordany Alvarez's chip off Javier Morales's corner kick hit Chivas USA's defender Walter Vilchez and ricocheted to Findley, who scored just inside the left post.
Findley, who replaced Devon Sandoval in the 63rd minute, made his first appearance since April 20 when he injured his adductor scoring a goal against Seattle.