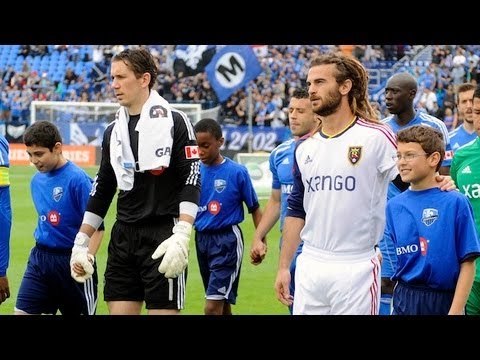 View 11 Items

I feel like we're always responding to adversity. To be in the driver's seat there in the beginning of the game had a little bit of a different feel.

—RSL coach Jason Kreis
MONTREAL — Three days after rallying for a stunning late-game win, the shoe was on the other foot as Real Salt Lake fell 3-2 to the Montreal Impact on Saturday afternoon at Saputo Stadium.
Montreal defender Matteo Ferrari scored off a corner kick in added time to complete the comeback for Montreal (6-2-2), snapping Real Salt Lake's two-game winning streak.
Unfazed by a tough opponent and playing in a tough stadium, Real Salt Lake enjoyed a rare pair of leads in the match. The first came in the seventh minute on an own goal when Lovel Palmer's pass was tipped by Ferrari.
Tied at halftime on Impact midfielder Felipe Martins' strike in the 39th minute, captain Kyle Beckerman restored Real Salt Lake's (5-5-2) lead in the 77th minute when he picked up a loose ball in the box for his first of the season.
It would be short-lived, however, when Montreal forward Marco Di Vaio evened up the score three minutes later.
"It's frustrating because I don't feel like we've had a lot of leads, and certainly not a lot of early leads, this year. I feel like we're always responding to adversity. To be in the driver's seat there in the beginning of the game had a little bit of a different feel," head coach Jason Kreis said.
Making its first visit to Montreal, Real Salt Lake had its chances to put this one potentially out of reach and hand the Impact their first loss at home, where they've been dominant this season (4-0-1) and last.
Olmes Garcia had a top-notch opportunity to put his club up 2-0 in the 15th minute but was stopped by the outstretched hand of Impact goalkeeper Troy Perkins.
Early in the second half, a pair of chances from Beckerman and Javier Morales failed to find the back of the net.
And, perhaps the best chance of all came in the 85th minute when substitute forward Joao Plata found himself breaking in alone on Perkins but was denied the go-ahead goal.
"We're coming in and trying to play our game, and we were able to do that a lot," said Beckerman. "We were able to create quite a bit of chances but just weren't able to capitalize enough."
"I think there was a lot of space in the midfield tonight, a lot of gaps to play in and I think our guys did a pretty decent job of taking advantage of them. To create as many chances as we did on the road says something," Kreis said.
Garcia and Sandoval proved to be a handful for Montreal's defenders all afternoon, their height and speed contributing to an attack that took 21 shots on the Impact net.
"All in all, I think it was a pretty well-played match by us," offered Kreis. "We just have to look at how we finished because if we had walked out with one point even, I think we would feel pretty darn good about ourselves."
The loss left the club winless in 10 visits to Canada.
Comment on this story
"Of course we were disappointed and frustrated but we've got to try and learn from it," Beckerman said. "I think a loss like this can really help us going forward to really try and learn from it, get a good week of practice in and hopefully the next time we're in this position, we'll get something out of it."
Montreal paid tribute to the tragic passing of soccer referee Ricardo Portillo with a moment of silence before kickoff.
"That was really, really cool that they would be willing to do that here in Montreal. It's obviously an incredibly catastrophic, tragic event that happened and you just can't put words to it," Kreis said.