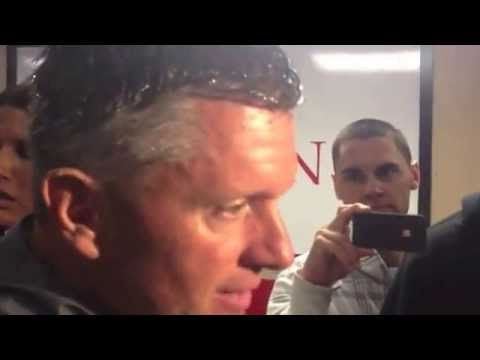 View 42 Items


By Mike Sorensen
Deseret News
SALT LAKE CITY — After suffering with an anemic offense that ranked among the worst in college football during the 2012 season, one of the big priorities for the Utah football team this spring was jump-starting the offense.
If Saturday's Red and White game at Rice-Eccles Stadium was any indication, the Utes' offense will be much improved in 2013.
The offense provided nine touchdowns and nearly 800 yards in a scrimmage that was about half of a normal game. Compared to the last couple of seasons, it was an absolute offensive extravaganza that the 8,000-plus fans were treated to on a cool, wet afternoon as the White team edged the Red, 35-28.
"We made some big plays offensively," said Utah coach Kyle Whittingham. "Both quarterbacks were sharp. The receivers made some big plays. And all four running backs played well. Overall it was a very positive end to a very productive spring."
The defense was missing several key players, including starters Brian Blechen, Nate Orchard, Trevor Reilly and Eric Rowe, and many of the players on both sides of the ball are unlikely to see a lot of time in the fall. Still, that didn't make a difference to Whittingham.
"The defense was watered down, but it's been watered down for years and we haven't had this kind of offensive production," he said.
Returning starting quarterback Travis Wilson had his best performance of the spring, completing 13-of-17 passes for 210 yards and two touchdowns with no interceptions. The 6-foot-6 sophomore hit James (Bubba) Poole with a 12-yard TD pass midway through the second quarter and then connected with Kenneth Scott with a 22-yard pass in the two-minute offense just before the end of the first half.
Wilson said he felt "comfortable" running the offense and says he "needs to stay consistent" as he moves into summer workouts.
"He may have separated himself with this performance," Whittingham said. "He's playing with confidence and a great deal of poise. But the competition to be the starter is by no means over."
Schulz, the former walk-on from Wisconsin, looked good early, as he completed a 57-yard pass to Dres Anderson on the Red team's first offensive play. Later in the first quarter, he hit Brian Allen with a 28-yard touchdown pass.
He tailed off a bit and finished with 9-of-20 passing for 245 yards, including a 73-yard TD pass to Delshawn McClellon in the fourth quarter. On that play the redshirt freshman from North Long Beach, Calif., made the move of the day with a spin move at midfield and then outran the defense up the left sideline.
Besides Wilson and Schulz, true freshman Brandon Cox had a strong spring and actually outperformed the other two QBs in the previous scrimmage. However, a foot injury prevented him from playing Saturday.
Whittingham was also happy with his running backs. All four backs had their moments Saturday.
Karl Williams, the senior from Layton, scored three touchdowns with 108 yards on 19 carries. Projected starter Kelvin York, who sat out much of the spring with a turf toe injury, picked up 79 yards on 13 carries. Poole finished with 62 yards, while Lucky Radley scored a pair of touchdowns from 8 yards and 1 yard.
Radley could have had another TD after taking a pass from Logan Bateman and racing past the secondary for an apparent 65-yard touchdown pass, only to have the ball stripped by Davion Orphey at the 5-yard line.
Orphey, a JC transfer from Santa Ana, Calif., was one of the defensive standouts on the White team with five tackles along with Reggie Porter, who had four tackles and a pass breakup. Uaea Masina led the Red team with seven tackles, while Quade Chappuis and Travis Still each had six tackles.
email: sor@desnews.com