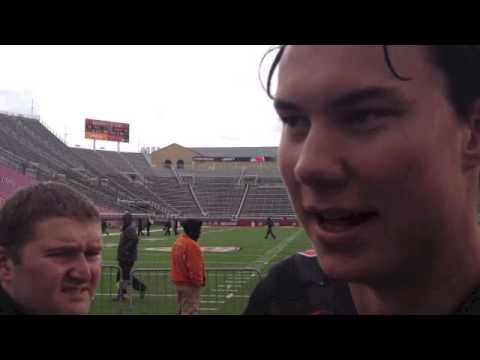 View 8 Items


SALT LAKE CITY —
The first-ever meeting of the Amalgamated Quarterbacks of Utah met on Saturday at Rice-Eccles Stadium, in what was a standing-room-only event. Not that the house was filled for the Utes' spring football game. Not even close. But in a quarterback sense, it was as crowded as a weekend theater. Three dressed for the game, one was on the sidelines, and two others looked on from afar. Which is exactly how the Ute coaches want it.
If they have their way, the QB situation next year will look like kids waiting for treats: "Me! Me! MeMeMe!"
Deep down, everyone wants to be quarterback. It just so happens that on Utah's football team in 2013, almost everyone is. Next fall there will be five scholarship quarterbacks and six in the program.
That's good news for aspiring quarterbacks but bad news for walk-on kickers.
"We think we've built that position up to where it needs to be, as far as talent and depth are concerned," coach Kyle Whittingham said. "It's young but very talented."
If there were serious worries at Saturday's game, they didn't involve the quarterback. That part was nicely covered. There were plenty of passing yards on display. The first half was all the stuff that counted, and produced what would have been a full Ute offensive game last year: 326 yards for the White team with 35 points. The Red compiled 198 total yards and 14 points.
After that it was details time, so the fireworks died down. The White team, led by sophomore Travis Wilson, won the game 35-28. His final totals: 13-of-17 passing for 210 yards and two touchdowns, all in the first half. Sophomore Adam Schulz was 9-of-20 for 245 yards and two TDs, including a 73-yard strike.
Logan Bateman, a walk-on that isn't even among the five Whittingham referenced, was 3-of-5 for 77 yards, including one for 53 yards.
The afternoon helped allay fears over a quarterback situation that spiraled in recent years. Previously, there was a dearth of bodies and thus a dearth of talent. After co-offensive coordinator Brian Johnson ended his playing career at the 2009 Sugar Bowl, the Utes couldn't keep their quarterback upright. For most of the time since, the leader was Jordan Wynn.. Remember him? As a freshman, he was the MVP of the Poinsettia Bowl.
Turned out that was the highlight of his career. He just kept getting hurt. Terrance Cain played when Wynn didn't, but in 2011 it was Jon Hays, the transfer from nowhere. Literally. That summer he was on his way to Nebraska-Omaha when the school shuttered it football program. A marriage of convenience was struck. Utah needed an insurance policy and Hays needed a school. To his credit, Hays got the Utes a Sun Bowl win.
But last season things didn't go as well when Wynn went down. Hays' tenure was short-lived and soon freshman Wilson was under center. In neither case did Utah generate consistent offense.
How Utah got in that situation is a familiar story. The Utes didn't recruit enough quarterbacks and Wynn kept getting hurt. Meanwhile, Winchester, Calif. signal-caller Derrick Brown committed to Utah but later changed to Washington. Another tantalizing prospect, Michael Eubank of Corona, Calif., showed interest in Utah but ended up at Arizona State. Suddenly Utah's quarterback inventory looked like the bargain shelf at a white sale. Wynn was too fragile, Wilson too young and Hays too limited.
On Saturday, the Utes took a step to remedy that. Wilson played so well that Whittingham termed it as good a spring game as he could recall. Aside from the three QB's that dressed, Brandon Cox watched on the sidelines, nursing a foot injury. According to Whittingham, Cox played better than any of the quarterbacks in a scrimmage last week.
Meanwhile, two other impressive prospects, Conner Manning and Michah Thomas, will join the team this fall.
"One of the lessons you learn is you need a quarterback to win, and you've got to have guy who can play at an efficient level, and you've got to have a guy who is going be a pro," Johnson said. "When you look at all the guys, the top quarterbacks in the league are first-round draft picks, and that's what the status quo is in order to be successful."
If all goes according to plan, next year the Utes will be well prepared in the depth department. As the survivalists say, you can never have too much storage on the shelf.
And for Utah, what is the Pac-12 about, if not survival?
Email: rock@desnews.com