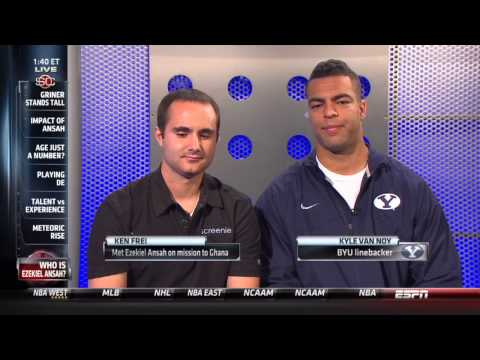 View 4 Items

It might be somebody like you or I that never cooked a meal in our life and three months later we're the finest chef in the world. It's like a guy that never typed in his life and two days later he was typing 200 words a minute. It's just an absolutely unexplainable thing.

—Gil Brandt, former personnel director, Dallas Cowboys
DALLAS — Three years ago, Ziggy Ansah didn't even know how to put on shoulder pads. In a few days, the BYU defensive end from Ghana could be one of the first 10 players selected in the NFL draft.
He could be joined by four other foreign-born players as first-round selections Thursday night, making it the most international-flavored draft in NFL history.
None of them, though, made a meteoric rise to prominence the way Ansah did.
"It might be somebody like you or I that never cooked a meal in our life and three months later we're the finest chef in the world," said Gil Brandt, former personnel director of the Cowboys and now an analyst for NFL.com and SiriusXM Radio. "It's like a guy that never typed in his life and two days later he was typing 200 words a minute. It's just an absolutely unexplainable thing."
Ansah could be accompanied by two other defensive ends from abroad as first-rounders: Florida State's Bjoern Werner (Germany) and SMU's Margus Hunt (Estonia). Unlike Ansah, they had the attention of NFL scouts before the 2012 season — Werner because he followed a more traditional path by starting at age 12 in his home country, and Hunt because he quickly developed a knack for blocking kicks.
Werner's college teammate, offensive tackle Menelik Watson of Britain, is the fourth player who could get first-round consideration, and Alabama defensive tackle Jesse Williams from Australia also is a possibility.
Is this a one-shot deal, or are there more foreign-born players ready to become top picks in future NFL drafts?
"I think it's just the beginning to be honest," said Tommy Wiking, president of the International Federation of American Football. "You're going to see lots more foreign players going in the first round. There's a lot of talent out there in the world. It's just for the Americans to find it."
Ansah, whose first name is Ezekiel, went to BYU on an academic scholarship in 2008. Twice he tried and failed to walk on to the basketball team. He showed some speed after joining the track team and then decided to give football a try.
After two unremarkable years, a breakthrough came last September against Boise State when he had eight tackles and a sack. He led the team in tackles for loss and was second in sacks over the final nine games. Now, the 6-foot-5, 271-pounder is listed in the top 10 on several mock drafts on the NFL's website.
"It's not unusual for a guy who's not a football player to get drafted in the seventh round or so," said Brandt. "But to have a guy drafted that high is really just totally unbelievable."
Werner, like many European youths, played soccer. Then he discovered football and is the current model for foreigners looking get a shot in the NFL. He played on club teams in Germany and attended a prep school in Connecticut, which led to traditional college recruiting and a scholarship to Florida State.
Now, the 6-3, 266-pound player's resume reads a lot like the U.S.-born players on the draft board. He started his final 27 games for the Seminoles and had 23½ sacks, fourth in school history. One of the names in front of him is Peter Boulware, the fourth overall pick by Baltimore in 1997.
"I improved every year at Florida State," said Werner, who will have several family members attending the draft on their first visit to the United States. "I just loved taking coaching, and I tried to get better every year. The NFL's going to be the same way. I'm going to try to improve more and more."
Hunt didn't come to the U.S. to play football. He was a standout in the discus and shot put as a youth in Estonia — winning the 2006 World Junior Championships in Beijing in both events. He decided to train under former SMU track coach Dave Wollman, who worked with Estonian Aleksander Tammert, an Olympic bronze medalist in the discus in 2004.
As soon as June Jones found him, Hunt turned in to the master of the blocked kick for the Mustangs. Standing 6-8 with an 82-inch wing span, Hunt blocked seven kicks as a sophomore, one shy of the NCAA record. He finished his career with 17, two short of the NCAA mark.
Once the novelty of that debut wore off, Hunt settled in to a disruptive role as a pass rusher. He led SMU with eight sacks in 2012, and 12 of his 31 tackles were behind the line.
"I think for me it's just showing the teams out there that I know football," Hunt said. "I'm not a track athlete playing football. I'm a football player now."
Watson saw basketball as a way out from a poor upbringing in Manchester, England, and ended up at Marist on a scholarship. Realizing the NBA probably wasn't in his future, he switched to football and played at Saddleback Community College in California before joining Werner at Florida State.
Williams was discovered at a clinic in Australia by the Hawaii coaching staff before ending up at Arizona Western College and becoming a rare junior college recruit for Nick Saban at Alabama.
Phil Savage, former Cleveland Browns general manager and executive director of the Senior Bowl, thinks NFL teams might someday have international scouts.
"Maybe not full-time to begin with but to reach out to some of the guys over there and say keep your eyes out for someone who has potential to play NFL football," Savage said.
All five potential first-rounders this year have one thing in common: they played college football in the U.S. The IFAF's Wiking envisions a day when foreigners go high in the draft without playing on American soil first.
"How many years will it take? I don't know," Wiking said. "Maybe in six years you'll call me and say, 'Hey now we have guys that have not even attended the American college system and they're going to be picked.' And in 10 years, they won't even be news anymore."
But they're news this year.
Follow Schuyler Dixon on Twitter at https://twitter.com/lschuylerd