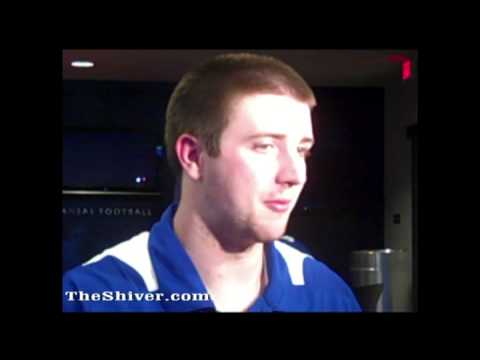 View 2 Items
YouTube

LAWRENCE, Kan. — Jake Heaps is finally getting his shot to lead the Kansas Jayhawks.
The former BYU quarterback had to sit out last season under NCAA transfer rules, and watched from the sideline as the Jayhawks went 1-11 in coach Charlie Weis's first season.
Now, Heaps is the No. 1 QB on the depth chart entering Saturday's spring game and the job is his to lose. Heaps will be pushed by Michael Cummings, who started last season when Dayne Crist proved to be ineffective.
The game kicks off at 1 p.m. at Memorial Stadium.
During Saturday's game, Heaps will quarterback the blue squad, while Cummings will captain the white squad, according to KUsports.com, as coach Charlie Weis based the two teams around his quarterbacks.
"After dividing the rosters, I would think you would see the blue team throwing the ball a lot, and you would see the white team running the ball a lot," Weis told the media during a press conference Tuesday.
"If Michael were to be the quarterback, it would be a run and play-action featured team. If Jake were the quarterback, it opens up a whole set of passes that he would be more efficient at in the drop-back passing game. We are going to try and expose both teams to that."
In late March, Weis showed his confidence in pegging Heaps as the team's starting quarterback.
"He's the man to beat out," Weis told the Kansas City Star. "I put him first for a reason.
"What we don't want to do is put any unnecessary pressure on him as 'the savior,' but at the same time, the expectation I put on Jake wont exceed the expectations he puts on himself."
9
comments on this story
Last season, Cummings started five games after replacing Dayne Crist, who proved ineffective after transferring from Notre Dame, while Heaps sat out. Cummings completed just 45.7 percent of his passes (43-of-94) for 456 yards, three touchdowns and four interceptions. Cummings was also fourth on the team with 123 rushing yards.
"You can't worry about what happened last year," Heaps told the Associated Press. "You have to focus on correcting the mistakes from last year and building on those things, developing a mindset and an attitude that we are going to win games and we are getting there."
Contributing: Brandon Judd