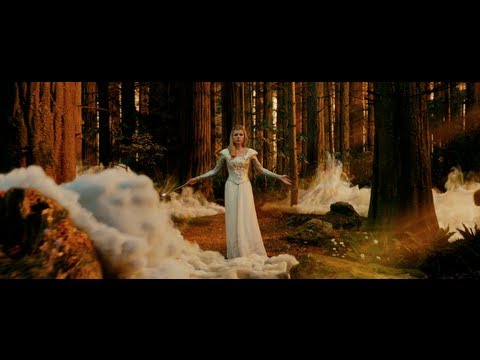 View 6 Items
YouTube

LOS ANGELES — "Oz the Great and the Powerful" clicked with moviegoers.
Disney's 3-D prequel to the classic L. Frank Baum tale "The Wonderful Wizard of Oz" debuted in first place and earned $80.3 million at the weekend box office in the U.S. and Canada and $69.9 million overseas, according to studio estimates Sunday.
"Oz" tells the origin of James Franco as the wizard with Mila Kunis, Michelle Williams and Rachel Weisz as the trio of witches he encounters after crashing in the mystical realm of Oz.
The updated take on "Oz," which was directed by original "Spider-Man" trilogy mastermind Sam Raimi, was a gamble that looks like it will pay off for the Walt Disney Co. The film reportedly cost $200 million and opened a week after "Jack the Giant Slayer," another big-budget 3-D extravaganza that reimagines a classic tale, flopped in its opening weekend, debuting with $28 million at the box office.
"Oz" was also golden overseas. The film conjured up $69.9 million from 46 foreign markets, including Russia and the United Kingdom. "Oz" could follow in the footsteps of Disney's "Alice in Wonderland," another costly 3-D film, which opened on the same weekend in 2010 and went on to gross over $1 billion worldwide.
"'Oz' is the shot in the arm that the industry needed," said Paul Dergarabedian, box-office analyst for Hollywood.com. "We had six consecutive weekends where the box office was down. As a result, we're at a 12-and-a-half percent deficit year-to-date on box office revenues versus last year. Not a lot of movies have worked. There have been several underperformers."
In its second weekend, "Jack" stomped out second place behind "Oz" with $10 million, dropping 62 percent since its opening weekend. It earned just $4.9 million overseas. "Jack," based on the Jack and the Beanstalk fable, was directed by Bryan Singer and stars Nicholas Hoult and Ewan McGregor.
The only other new release this weekend, the FilmDistrict revenge drama "Dead Man Down" starring Colin Farrell and Noomi Rapace, opened in fourth place with $5.3 million.
Estimated ticket sales for Friday through Sunday at U.S. and Canadian theaters, according to Hollywood.com. Where available, latest international numbers are included. Final domestic figures will be released Monday:
1. "Oz the Great and Powerful," $80.3 million. ($69.9 million international.)
2. "Jack the Giant Slayer," $10 million. ($4.9 million international.)
3. "Identity Thief," $6.3 million.
4. "Dead Man Down," $5.3 million.
5. "Snitch," $5.1 million. ($4.7 million international.)
6. "21 & Over," $5 million.
7. "Safe Haven," $3.8 million.
8. "Silver Linings Playbook," $3.7 million. ($6 million international.)
9. "Escape from Planet Earth," $3.2 million.
10. "The Last Exorcism Part II," $3.1 million.
Estimated weekend ticket sales at international theaters (excluding the U.S. and Canada) for films distributed overseas by Hollywood studios, according to Rentrak:
1. "Oz the Great and Powerful," $69.9 million.
2. "Hansel and Gretel: Witch Hunters," $11.2 million.
3. "A Good Day to Die Hard," $9.1 million.
4. "Mama," $6.3 million.
5 (tie). "Beautiful Creatures," $5.8 million.
5 (tie). "Les Miserables," $5.8 million.
6. "Silver Linings Playbook," $6 million.
7. "Jack the Giant Slayer," $4.9 million.
8. "New World," $4.8 million.
9. "Snitch," $4.7 million.
10. "Boule et Bill," $4.1 million.
Online:
http://www.hollywood.com http://www.rentrak.com
Comment on this story
Universal and Focus are owned by NBC Universal, a unit of Comcast Corp.; Sony, Columbia, Sony Screen Gems and Sony Pictures Classics are units of Sony Corp.; Paramount is owned by Viacom Inc.; Disney, Pixar and Marvel are owned by The Walt Disney Co.; Miramax is owned by Filmyard Holdings LLC; 20th Century Fox and Fox Searchlight are owned by News Corp.; Warner Bros. and New Line are units of Time Warner Inc.; MGM is owned by a group of former creditors including Highland Capital, Anchorage Advisors and Carl Icahn; Lionsgate is owned by Lions Gate Entertainment Corp.; IFC is owned by AMC Networks Inc.; Rogue is owned by Relativity Media LLC.
Follow AP Entertainment Writer Derrik J. Lang on Twitter at http://www.twitter.com/derrikjlang.