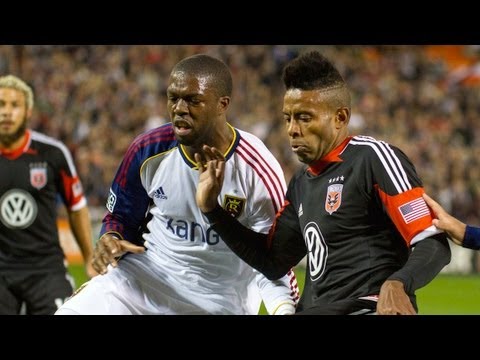 View 5 Items

WASHINGTON, D.C. — Washington is a town of monuments and a Congress and a White House. It's also a house of horrors for Real Salt Lake.
After a promising start to the season last week in San Jose, RSL allowed a goal to D.C. United's Lionard Pajoy in the 60th minute to fall, 1-0, before 17,072 fans at RFK Stadium. The loss marks the ninth time that Real (1-1) has played in D.C. without coming away with a victory.
"There's a few places we've played that we haven't won, so it's not something we dwell on," said RSL coach Jason Kreis. "I was pleased with the effort we put forth tonight, and especially pleased with our response after we got down."
Although United (1-1) outshot Real 5-1 in the first half and controlled the run of play by a slight margin, both teams had their chances in the first stanza.
United had a great chance in the 25th minute, but a cross by Chris Pontius into the goal mouth went off the head of midfielder Nick DeLeon and wide left of the goal.
RSL's best early chance came in the 30th minute when Robbie Findley, standing near the far left sideline, lifted a cross that narrowly missed Alvaro Saborio, who was crashing the right goal post.
Salt Lake got another chance in the 35th minute when Tony Beltran's pass found Luis Gil open at the top of the penalty area. Gil, however, could only manage a weak header which was saved by D.C.'s Bill Hamid.
The second half was much the same, with D.C. pressing the attack early. That style finally paid off for United in the 60th minute.
At that point, Real gave up a corner, which was taken by Pontius. He hooked the ball to midfielder John Thorrington at the top of the penalty area. Thorrington fired a dart towards the left side of the net. Keeper Nick Rimando moved over and got a hand on the ball, but it bounced directly to Pajoy, whose diving header gave United a 1-0 lead.
"We had some questions at the end (about whether there was off-sides on the goal), but we really didn't give up much," said RSL captain Kyle Beckerman. "I think we played better here tonight than we played in the opener. We improved on a lot of things, and there are a lot of things we can take from this game. I think we played well."
After the United goal, Real began to pressure the D.C. goal, and that led to several quality chances. In the 73rd minute, Khari Stephenson found himself unmarked from about 20 yards out and left of goal, but his shot was saved by Hamid.
RSL got another chance in the 83rd minute. With Real pressing the action, the ball found the foot of Lovel Palmer, who got an open look at the goal. He fired a low shot that trickled just right of the cage.
Real dictated the play over the last 20 minutes, but couldn't come away with a goal.
"I felt like there was still more soccer to be played," said Kreis. "We created lots of opportunities late in the game, but there were more gaps to be found, and I felt like we didn't find them."
Still, Kreis said the loss wasn't that big of a disappointment.
"If you'd have told me before the season started that we'd get out of these two games with three points, I'd have taken it," Kreis said.
After starting on the season on the road, several players said they'll be happy to see Rio Tinto Stadium next weekend for the home-opener against the Colorado Rapids.
"We're excited to get home and open up our stadium in front of our fans," said Beckerman. "They're our rival, and it should be fun."
Findley agrees.
"It's going to be good to get back home," he said. "It's not easy to start the season with two games on the road. We'll be home, so we've got to get the three points there."