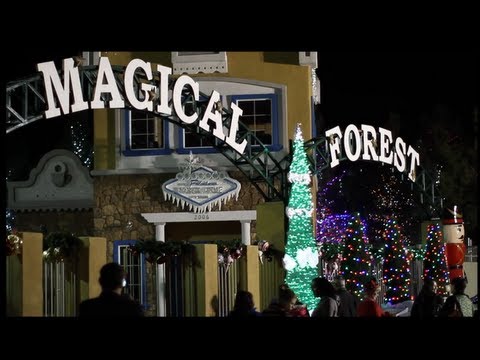 View 3 Items

BrandView
This story is sponsored by Zions Direct.
Click
to learn more about Zions Direct.
We've been around so long that some of the kids that we first saw 20 years ago are now bringing their kids to the Magical Forest...

—Edward Guthrie
>>Edward Guthrie: Opportunity Villages history goes back to the late 1940s and early 1950s. Believe or not, back then Las Vegas only had about 25,000 people in it. It was a very small town. When our families went up to the new special education school, they were told their children were too disabled to go to school. Well obviously they were devastated. They went home, they re-grouped and they started Opportunity Village.
>>Linda Smith: I got involved with Opportunity Village when I first moved to Las Vegas with my Down syndrome son. So he was just a little guy, 5 years old. When my son was born, we were told Put your child in an institution and forget about him. Now you see people who are out in the community and they are valued, and they are respected, and they are loved. They have an amazing work ethic.
>>Edward Guthrie: Opportunity Village provides all kinds of services. We clean 3.5 million square feet of government and commercial office space and we train people with disabilities to be able to do those jobs. Our fundraising is about 25-30% of our total budget, so we raise literally millions of dollars a year to help support these services. And then we have contracts that we do and the contract revenue is another 50% of our budget and thats well over $10-12 million a year. Only about 25% of the revenue that comes in to Opportunity Village is government grants or government fee-for-service revenue. All the rest of it is just money that weve raised on our own
>>Susan Winshall: The fact that they are a 501(c)3, or a non-profit organization, enables them to access the capital markets to use tax-exempt bonds.
We served as investment banker for Opportunity Village for two different bond issues. They were both tax-exempt revenue bonds. The first bond issue in 2007 was for $24.275 million, and again for the construction of the Engelstead campus. When they did the refinancing in 2011, they had paid down a good portion of that first bond issue so the second one was for $18.3 million.
>>Edward Guthrie: Now the Magical Forest, we need that to raise part of the money that we use to provide the services here at Opportunity Village. We need 75 volunteers a night every night for 40 nights in a row, including Thanksgiving night, Christmas Eve and Christmas night and Las Vegas comes out and volunteers. Literally tens of thousands of people consider this an important part of their Christmas here in Las Vegas. Weve been around so long that some of the kids that we first saw 20 years ago are now bringing their kids to the Magical Forest so its really kind of cool. Its become a Las Vegas tradition.

>>Linda Smith: So that first year 21 years ago, the Magical Forest raised $3,000. Last year it raised about a million seven, so it gets about 175,000 people come to it, you know, more each year. More companies take part of it. Its a great thing for Las Vegas but it brings out the best in everybody.
>>Amanda Del Giorno: Its real fun. Its real pretty. It gets you in the holiday spirit and it just puts you in a good mood and its really fun.
>>Linda Smith: The best sales representatives that we have here at Opportunity Village are the people that we serve. They are kind, theyre gentle, they are generous and they just want a chance at a life that we all take for granted.
>>Amanda Del Giorno: I love it. I really like working there. Its a good place to work at and Im happy to work there. Its a great company to work for.
>>Edward Guthrie: Its a lot of fun to be able to provide them the opportunity to be able to earn some money because they dont get that opportunity without us and so thats what I think I really like about Opportunity Village is being able to provide folks opportunities they might not have otherwise.
>>Amanda Del Giorno: It really changed my life. Ive met a lot of nice people and I love it and I have made a lot of great friends.

Investment products and services offered through Zions Direct, member of FINRA/SIPC.
Investment Products: Not FDIC Insured • No Bank Guarantee • May Lose Value