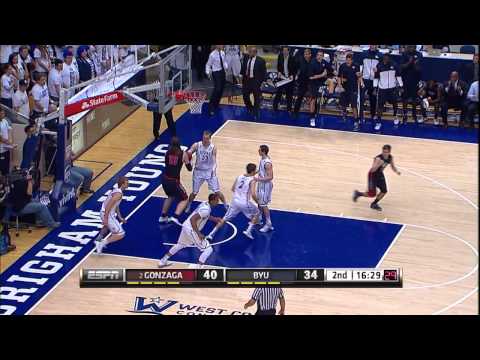 View 2 Items

PROVO — That pretty much settles it, doesn't it?
Gonzaga really isn't all that little and cute.
In fact, it's acting like a regular big shot.
There has been a lot of publicity this week about the No. 2 ranked Bulldogs. You know the storyline. Little-know team from small-time town in a teeny-tiny conference gets noticed. The biggest question is what kind of competition it has played.
Well, 20-win BYU for one.
That didn't go perfectly for the Cougars on Thursday night at the Marriott Center, as the Zags put their stamp on a phenomenal season by holding off the Cougars, 70-65. That made it two-for-two against BYU this season. It also opened the door for a second-ranked Gonzaga to be ranked No. 1, if the Bulldogs can get past lightly regarded Portland on Saturday.
So there you have it. Gonzaga, sure to get its 15th consecutive NCAA Tournament invitation, is unflappable and flat-out good. People can stop calling it adorable right… about… now. The win clinched their 10th outright WCC title.
This has all been rather hard for BYU, which is now 1-4 against Gonzaga since joining the conference. Many BYU fans felt the Cougars could rule the West Coast Conference when they joined last year. But it hasn't happened. BYU finished third last season and will probably finish third again.
The Cougars have been good, but unable to dominate. What can they do about it?
Dominate in the grandstands, maybe.
Up there, it's not even a contest.
The Bulldogs showed up at the Marriott Center, ready to rock. With a 28-2 record, it is clearly a team with higher aspirations than small conference domination. The Zags think they can win it all – and they have their point. They beat West Virginia (13-14), Oklahoma (18-8), Oklahoma State (20-6), Clemson (13-13) and Kansas State (23-5).
Not to mention their nifty 15-0 record in the WCC.
On Thursday, they were every bit what they hoped to be — composed, cool, collected. How were the 20-10 Cougars supposed to defuse that?
In the event of a talent or depth difference, Plan B occasionally works: Have your fans harass them into an upset.
It's safe to say the Cougars were underdogs in Thursday's contest. Since both are religious schools, even out-praying them seemed iffy. So what was their answer?
Get some help from the mighty 21,000.
That's one thing about the West Coast Conference: It's still a smallish religious association at the core. Aside from the Marriott's 20,900 capacity – which was filled on Thursday – the biggest arena in the league is Gongaza's McCarthey Athletic Center (capacity 6,000), which is impressively loud.
But if you put 21,000 against 6,000, you never know.
Or maybe you do.
The Marriott Center has long been a place for loud crowds. When it first opened in the 1970s, great player such as Kresimir Cosic and later Danny Ainge raised the roof. There were a few down years before Dave Rose took over as coach, when the place was as quiet as, well, a church. But along came Jimmer and the arena became a launch pad. BYU was back to being one of the most intimidating venues in the nation.
So it was on Thursday. The fans came out and the place was deafening. It couldn't have been louder if Led Zeppelin had played the anthem. Any notions of meekness and quietude were tabled for the night.
Even in a place where the house is often packed and the noise routinely ear-splitting, Thursday's game loomed large. An estimated 70 tents were pitched outside the Marriott Center, some since Sunday night.
Once inside, nobody held back. Sample sign from the student section, directed at Kelly Olynyk, Gonzaga's resident Bill Walton: "Cut your greasy hair!"
A verbal sampling came when John Stockton's son David shot two free throws and the crowd chanted "Who's your daddy?"
Still, it wasn't enough to avoid a nine-point first-half deficit. But the Cougars tied the score at 60 with five minutes left. The Zags were up 63-62 with a minute left but made a basket and a pair of free throws to edge ahead enough to win.
Gonzaga had survived to fight for a top ranking.
Even with the atmosphere, and a fine effort, it came down to the better team winning. Yes, the crowd was great and the Cougars were tough. But not enough to win, even when 21,000 voices were insisting otherwise.
Email: [email protected] Twitter: therockmonster