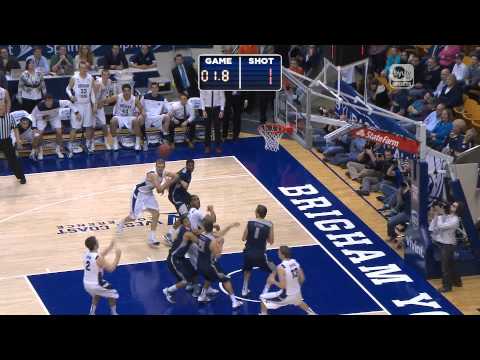 View 33 Items

BYU and Utah State faced off on the hardwood tonight in Provo, and it was BYU who came out on top in a closely fought contest.
The physical nature of the game paid dividends for the Cougars, who made 85 percent of their free throws, thanks largely to Tyler Haws who made 12 of 14 from the line. By contrast, the Aggies only made 63 percent of their free throws. Haws finished with a game high 27 points.
Spencer Butterfield dragged the Aggies back into it late in the second half, finishing the game with 21 points and 14 rebounds.
Despite Butterfield's best efforts however, it was the Cougars who finished the game with the two-point lead, thanks to a buzzer-beating shot off the rebound from Craig Cusick. Cusick's shot left 0.2 seconds on the clock, but the Aggies were not able to get the points to tie the game.
This result puts the Cougars at 20-8 for the season, and brings the Aggies to 18-7