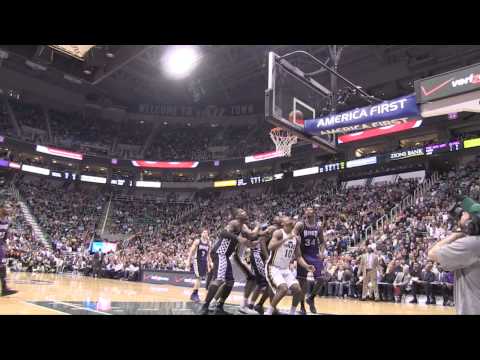 View 6 Items



SALT LAKE CITY —
It wasn't all that long ago that Damian Lillard and Jimmer Fredette were just a skip pass away from each other, one playing at Weber State, the other at BYU.
Now they're not in the same solar system.
The casual college friends are casual pro opponents, their careers having taken vastly different paths. Lillard, of the Portland Trail Blazers, is on track to become the league's Rookie of the Year. Fredette isn't even sure whether to unpack. His Sacramento Kings, who lost 98-91 in overtime to the Jazz on Monday, are the most unsettled team in the NBA. Most reports have them moving to Seattle next season.
"We don't worry too much, don't talk about it, we don't listen to what's going on, we just worry about what we're doing on basketball floor," Fredette said. "That's all we can control now. We have no idea what's going on behind scenes or anything, we just focus on a game-to-game basis."
That part isn't going terribly well, either. The loss to the Jazz was their 13th loss in their last 17 games.
At the same time, Fredette's career continues on the same course as it has. He plays for a team of rapid-fire individualists, bent on getting their shots, so to speak, before the Kings leave Sacramento. Coach Keith Smart seems convinced Fredette is a situational player. Fredette appeared in the closing seconds of regulation and overtime against the Jazz. He was in there just in case.
The rest of the game he was there on occasion.
Fredette was met upon entry with the usual mixture of cheers and boos by Jazz fans — with the cheers eventually winning out. But he missed all five of his shots and turned the ball over three times in 13 minutes.
That's how Fredette's nights go. Sometimes he'll get in for half a game, as he did in Saturday's season-high 23 minutes against New York. But the game before that he logged only four minutes.
Earlier this month, Fredette went back-to-back games without leaving the bench. He has logged more than 15 minutes just 18 times in 50 games. His struggle to grow into an NBA point guard has been stalled partly by such talented guards as Isaiah Thomas and Aaron Brooks, Marcus Thornton and Tyreke Evans, and partly by Smart's assertion that Fredette doesn't yet know when to take his shots and which shots to take.
"I just try to be more aggressive offensively, my mindset is lot better," he said. "I'm doing a better job overall."
Three nights earlier at ESA, it was a different story. Lillard, the former Weber State guard was in town with the Blazers. He has started all of the Blazers' games this year, Fredette none for the Kings. Lillard finished Friday's game against Utah with 26 points in 40 minutes. Fredette has played just 311/2 minutes in three games against the Jazz this year, making 4-of-13 shots.
Lillard is on the rise, with a franchise that loves him, blending easily into his team and position. Fredette is on a team where he really doesn't fit. It was obvious on Monday that he hasn't mastered the point guard spot on both ends of the court.
The past week in Utah provided a glimpse into the disparate worlds of Fredette and Lillard. The former tries to keep an upbeat attitude, the latter has attitude to burn.
Though he's too media savvy to say it, Fredette is hoping to be more than a decoy in the clutch.
Two years ago, Fredette was the college player of the year, Lillard a modestly noted guard at Weber. But now Lillard is drawing rave reviews. In two games against Portland this year, Fredette has scored 14 points and played 38 minutes. In those games Lillard scored 32 points and played 74 minutes. Overall Lillard is averaging 39 minutes a game, Fredette 14.
The only area where Fredette is doing better is where he made his name — from outside the arc. He is sinking nearly 43 percent of his 3-pointers, compared to 36 percent by Lillard.
"I talked to (Lillard) a little bit in college and a little bit now; he's obviously having a great year and doing great things in Portland," Fredette said, "so I'm happy for him."
Thus it was business as usual for Fredette on Monday. The Jazz won, Fredette played, but had no major effect. Meanwhile, Lillard scored 21 points and got six assists in 38 minutes against Minnesota. That's how it goes most nights, as the gap between the two players grows. One has found his place. The other, just like the Kings, is hoping for a good place to nest.
Email: [email protected]
TWITTER: therockmonster
FACEBOOK: rockmonsterunplugged