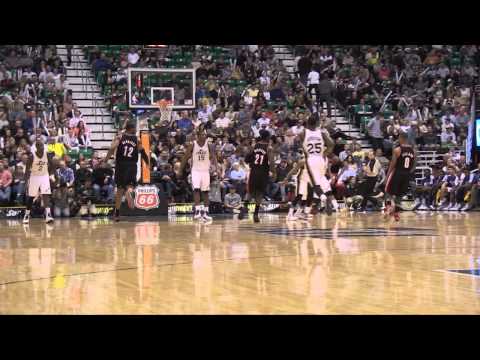 View 35 Items


SALT LAKE CITY — One year ago today, I drove to Weber State to see one of the nation's leading scorers, Damian Lillard. He racked up 40 points on Portland State. The Vikings may as well have been trying to stop the earth's rotation.
Fewer than 6,000 fans attended, but the people who mattered most were there: nine NBA scouts. So if you're wondering whether Lillard's success in the league has been surprising, the answer is yes and no. Yes, to the general public, which still thinks Weber is a small town in the Alps. No, to the NBA scouts and Lillard himself — they saw him coming.
Friday at EnergySolutions Arena, Lillard made his first regular season appearance in Salt Lake, as a member of the Portland Trail Blazers. The Jazz won 86-77. It wasn't a huge, overcooked Jimmer-returns moment, but it wasn't that way in college, either.
It was, true to form, a learning session.
"I think that's one reason he turned out how he is," said his college coach, Randy Rahe. "He is unbelievable to coach. You could push him hard, get on him, do whatever you wanted to do and he always responded. Anything you would tell him, he'd put to use."
Case in point: When he went to the bench in the first half of Friday's game, Lillard spent most of the time nodding to his coaches, eating it up. He had made just two of his first 10 shots. But as the second quarter closed in, he flew for a dunk. A half-minute later he threw a perfect bounce pass to LaMarcus Aldridge for a basket. By game's end he had 26 points and five assists.
That's how it has gone for the NBA's leading Rookie of the Year candidate.
The "record" button is always on.
The cheering at Lillard's introduction was nice but not overwhelming — sort of like playing for Weber State. But he definitely accommodated his fans, 164 of them being part of an alumni association excursion. Lillard responded by making a rare move for an NBA player, going into the stands to sign autographs after warming up.
Although last year Lillard was featured by some national media, there weren't more than a half-dozen news outlets at most games. On Monday he was named Western Conference Rookie of the Month for the third time.
Three-for-three isn't a bad percentage.
Still, if you're expecting him to go all Randy-Braggin'-Moss, it will be a long wait. When I asked last year whether he was the next Jimmer Fredette, he said, "I'm more of an under-the-radar guy. Jimmermania is just not me."
Actually, Jimmermania wasn't really Jimmer, either, but sometimes stories take on their own life.
"I don't see a reason why I would change who I am based on success or failure," he said on Friday. "There was a time when I wasn't very successful, but I wasn't down by it. People doubted me but I didn't let it sway me in any direction about how I felt about myself. So now that tables are turned, there's no reason for me to change."
This is a player who wears No. 0 on his jersey to represent Oakland (his hometown), Ogden and Oregon. Thursday he showed up at the Weber State women's game (attendance 677), looking for college friends.
How he got to Weber is an odd story. West Coast teams contacted him in high school, but he deliberated so long that most of them moved on. Fine with Lillard; he liked the Wildcats. They had contacted him first.
Then he began working on his game. Boy, did he work.
"I've been in (Division I) coaching 21, 22 years and no one has come close to his work ethic," Rahe said. "It was truly off the charts."
This is how far: The morning after games he would work out for an hour, have lunch, then return for a full practice in the afternoon. That night he would return to the gym for more.
1
comment on this story
"I wish we could take more credit and say we did an unbelievable job of coaching, but it was mostly Damian," Rahe said. "He was a self made guy."
Nowadays everyone seems to have something to say about him, yet he remains largely unchanged. He's still the guy who turns out the gym lights; still prone to low-keying his success. When a friend at Weber State asked about his rise in the NBA, he shrugged, "I'm just playin'."
Humility aside, it's becoming downright hard keeping him "under the radar" any more.
A year late, Damianation is taking flight.
email: rock@desnews.com
Twitter: therockmonster
Facebook: rockmonsterunplugged