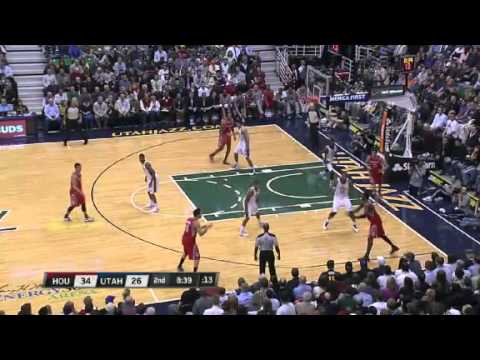 View 2 Items

SALT LAKE CITY — The Utah Jazz played Monday's game against Houston minus starting guard Mo Williams and multi-faceted wing Gordon Hayward. Oddly enough, those were the least of the absences.
Their biggest problem was the complete dearth of heart. This time of year there should be no shortage of such things; hearts are on greeting cards, neckties and display windows.
But for the Jazz?
Just like the Grinch, theirs are two sizes too small.
There's no other way to explain the worst home loss in franchise history. A 125-80 defeat isn't an embarrassment, it's an eradication. Even with the inclusion of Hayward and Williams, it wouldn't have made up the 45-point difference. Yet this wasn't the 1994 and 1995 NBA champion Rockets. It was an eighth-place team whose best player was a sixth man in Oklahoma City. James Harden was dunking on the Jazz like he was slamming a trap door.
Their second loss in three games accentuated the fact this Jazz team is not going anywhere important. It should do fine with its current home-heavy schedule, but trouble lurks. The Jazz lost by 18 to a reeling Los Angeles team last Friday. The Lakers were bickering and hinting at a breakup, yet brushed off the Jazz like dandruff.
This how much respect the Jazz are getting: After the Lakers beat Oklahoma City on Sunday, Kobe Bryant said, "It's feels good to beat a team that's worth a (expletive)."
Thanks for the shout-out, Kobe.
The scary part is his assessment could be right. The Jazz aren't exactly one of the titans. They barely beat Indiana on Saturday, despite blowing an eight-point lead at the close of regulation. That was followed by the loss to Houston, the fifth-worst defeat in franchise history. One less bucket and it would have been the worst defeat since the Jazz left New Orleans.
Truck Robinson and Gail Goodrich must be relieved.
But the Jazz aren't the only team in Utah that needs its pulse checked. For weeks the Utes looked to be improved, hanging close in games they shouldn't have. They even surprised Washington on the road. Then came Sunday, when they pulled a no-show in a 31-point home loss to Stanford.
They were careless with their possessions, thoughtless with their shot selection and feckless with their defense and rebounding, causing Larry Krystkowiak to vow his team would "go down swinging" on the season.
Does slipping on the ice count?
In neither the Jazz's nor Utes' case was the opponent particularly tough; both came from the shallow end of the power pool. In the Jazz's case, it's slightly more complicated. Since they play 82 games, bad nights happen. They competed decently in the last two weeks to get back into playoff position. But they're still in the basic place they were last year, setting up for a No. 7 or 8 seed and first round elimination.
It's not entirely about heart for the Jazz, but also personnel. They have plenty of good players, but no great ones. They also have nine pending free agents, all of whom must be wondering if they could win more elsewhere.
And there's nobody that's a franchise player.
Meanwhile, the Utes are a better team than last year — or so they keep saying. They have been close in more games this season, yet have only one conference win. To match last year's dismal three-win Pac-12 season, they'd need to upset someone again this year. The only conference opponent they've defeated is Washington, but there's not a return game.
Their best chance is a pair of games against Oregon State, 1-6 in the Pac-12.
Otherwise, the list of potential victims is skin-thin.
So here the two Salt Lake teams sit, caught in a quandary of their own making. Neither has the talent to win championships. But it's hard to feel sorry for teams when they lack heart. Maybe they need a defibrillator.
Better yet, just cue some Mancini music.
Email: [email protected]
Twitter: therockmonster
Facebook: rockmonsterunplugged