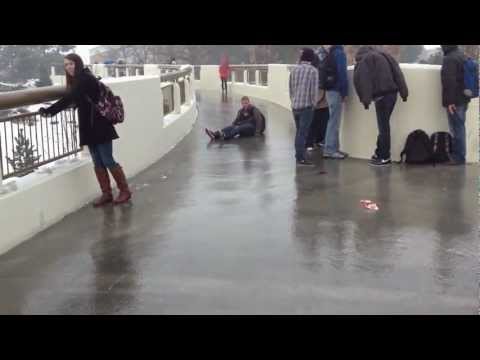 View 4 Items



PROVO — A rare frozen rain storm that blanketed Utah's roads with a sheet of ice posed a challenge for those traveling on the highways but created an unusual opportunity for BYU students walking to classes on Thursday.
Footage shot by BYU student Lane Russell early Thursday morning shows fellow classmates sliding down the skybridge that passes over Campus Drive. The video was posted Thursday morning, and in less than 24 hours it has garnered nearly 80,000 views.
Some students opted to slide with more security, holding the rails, while others took a no-hands approach. One student in the video decided to speed up his trip across the bridge by sitting on the ice.
"I managed to fall only once. I feel like eight out of 10 people that were walking on the same area with me fell," said Disola Mala. "The salt that BYU was throwing on the ground wasn't working at all, so the ground was just as slippery."
Some students recorded the struggle of their classmates by standing near areas of campus with high foot traffic. Jacob Shamy stood near the corner of Campus Drive and Heritage Drive and recorded students sliding on the ice, some holding on to each other as they made their way to the Wilkinson Student Center. Advertising major Morgan Crockett recorded footage of those sliding by the tennis courts on the opposite side of campus.
Although the ice sheet caused many to be late to their classes, some students bonded over the struggle of walking on campus.
"Because everyone was walking so slow, everyone ended up talking to the people that were walking close to them. They made friends at least," Mala said.
Some students decided to avoid the slippery sidewalks and drive to class, picking up others on the way.
"I literally did not even make it out of the driveway of my apartment complex without falling on the ice," said Chantal Renouard. "Luckily, some kind souls headed to BYU decided to stop and ask if I wanted a ride. I probably would've fallen quite a few more times along the way."
The ice did not cause any school cancellations, although Jordan School District delayed buses transporting elementary school children by as much as an hour.
Some ice on the sidewalks lingered into Friday, but students did not have as much difficulty getting to and from classes.