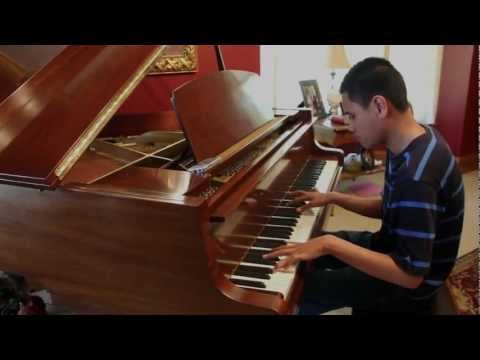 View 6 Items



Editor's note: This story was originally posted on LDSChurchNews.com on July 14, 2012. Since that time, Kuhao Case has continued to develop his talent for playing the piano and organ. Case shares his musical abilities on YouTube. We share some of those YouTube videos in this article.
Members of the Waimea 1st Ward, Kona Hawaii Stake, on the Big Island of Hawaii oftentimes make it a point to arrive early to sacrament meeting each Sunday. As they come in, find a seat and sit, the sounds coming from the chapel invite the Spirit as they enjoy the prelude music and talent of Kuha'o Kawaauhau-Case, a 15-year-old organist.
"He is so unique and marvelous. ... I have such a love for Kuha'o and his enthusiasm for life and dedication to the church," said Barbara Townsend, a member of his ward. "I feel blessed to live in the same ward and listen each week to his awesome renditions of the hymns."
While visiting Utah in April, Kuha'o Kawaauhau-Case plays the organ in the Tabernacle on Temple Square. He also visited the Conference Center and met Richard Elliott, one of the Tabernacle organists.
Although Kahu'o's musical ability alone causes him to stand out among his peers, it is his story that really shares his "extraordinary gift."
With a name that when translated means "extraordinary gift, one who stands alone," Kahu'o has been playing the organ and piano for only a few years and is self taught.
"These facts alone give the listener an appreciation for his accomplishment knowing he doesn't use sheet music and plays the sacred melodies by ear," Sister Townsend said. "His talent becomes even more amazing when people learn that he is blind since birth."
Born two months premature and weighing only 2 pounds, 2 ounces, Kuha'o was flown to the hospital where he stayed for three months. It is believed that a complication during surgery may have resulted in his blindness, and his recovery alone was considered a miracle.
Although he plays like he has been taking lessons for years, Kuha'o has been playing the piano, keyboard and organ for only two and a half years.
"When I am at home and I want to learn something, I listen to a song on a CD two or three times or more, and get on the piano and then play it," he said. "That is how I picked it up."
It was around the time he joined the church he was baptized the day after Christmas in 2009 that Kuha'o began playing the organ. Now, he holds the office of teacher in the Aaronic Priesthood and is a great example of one who exemplifies his calling.
"I am a teacher in the teacher's quorum," he said. "My responsibility now is to prepare and set up the table for sacrament. As a deacon I passed the sacrament. It's great, I love it."
Recently, a goal of Kuha'o's was fulfilled as he traveled to Utah with his grandparents, Donald and Iwalani Case. During his visit, he attended some of the April general conference sessions and met Richard Elliott, one of the Tabernacle organists.
"It was a dream for me to meet the principal organist Richard Elliott," he said. "But then to play in the Tabernacle and Conference Center ... it was wonderful."
His grandparents, who Kuha'o stays with on the weekends, encourage the young man's talent and try to provide as many opportunities as they can for him to share it with others. They fill their home with the sounds of the Mormon Tabernacle Choir, and stacks of the hymns in braille make it possible for Kuha'o to learn the words. He likes to get up at 5 a.m. on Sundays to hear the Tabernacle Choir's broadcast, "Music and the Spoken Word."
It is usually while Brother Case is fulfilling his calling maintenance for their ward building that Kuha'o practices on the organ in the meetinghouse.
"I do like to practice on the organ while someone is doing their job, because we need music music will help them get the focus to try to do the responsibility the right way," Kuha'o said. "I get on the organ and play. Every Saturday I do organ practices, and every Sunday I prepare for sacrament. ... That is what [music] is for, you get to bring people closer to the Lord, to come unto him."
In 2010, Kuha'o participated in the state-wide "Hawaii Stars Concert of Extraordinary Abilities," and ended up winning the first place prize of $10,000. He donated the money to the Hawaii Association for the Blind.
"He always brings tears to our eyes," Sister Case said. "He plays pretty music and Saints come to listen because they know he will play. It brings Heavenly Father's Spirit."
It is his personal testimony that Kuha'o likes to share whether through music or words from the pulpit and hopes it will bring others closer to Christ.
"I hope people feel even more inspired by the words expressed to the Lord when I play the organ at church," he said. "I am bearing my testimony through words and songs. That is fantastic, I love that."
Kuha'o is looking forward to serving a full-time mission someday, saying "when I grow up I want to be a missionary, to serve the Lord." But until that time, he continues to play the prelude music in church each week, sings in the ward choir and participates in his priesthood duties.
"This is The Church of Jesus Christ of Latter-day Saints and that is why we go every Sunday. I know that this Church is true, that God lives and hears our prayers, and Thomas S. Monson is a true prophet, and that Joseph Smith is the one that restored the gospel in these latter days."